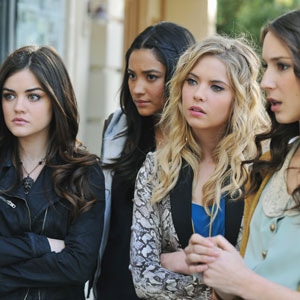 ABC Family
ABC Family just revealed a dirty little secret. And by "dirty" we mean "crazy-awesome."
The network announced today that its renewed their hit drama Pretty Little Liars for a fourth season. You know what that means! More Lucy Hale, Ashley Benson and the rest, more "A" hijinks, more snappy one-liners and probably more deaths. We can't wait!
ABC Family has ordered a big serving of PLL, giving it 24 one-hour episodes that will start to air in mid 2013. But we've got plenty of those girls to go around until then. The special Halloween episode will air on Tuesday, Oct. 23, and the second half of season three starts in Jan. 2013. 
Speaking of that Halloween episode, Troian Bellisario offered up this tease about the highly anticipated spooky special. "If you enjoyed last year's, it's just going to be leaps and bounds [better]. It's no holds barred. It's amazing what they did this year. I think we're still paying for it in terms of the budget," she laughs. "The costumes are much better this year, the location is out of this world, and the stakes are much, much higher." 
Time to celebrate! Meet you down in the comments for a PLL renewal party. Bring snacks.