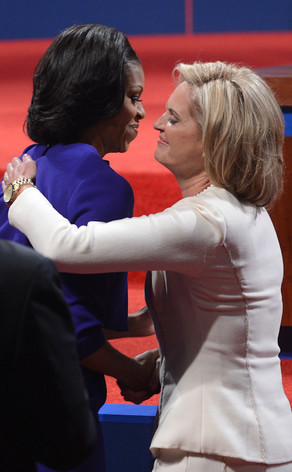 SAUL LOEB/AFP/Getty Images
President Barack Obama and former Massachusetts Gov. Mitt Romney weren't the only ones who had to plaster smiles on their faces and feign, er, show appreciation for each other.
Their respective better halves, Michelle Obama and Ann Romney, shared a handshake and quick embrace tonight in Denver before the first of three scheduled presidential debates got underway, both of them smiling politely through the awkwardness.
Though their politics diverge, both women went the conservative route, fashion-wise: The first lady, who's usually one for dresses and coordinated but not matchy-matchy separates, opted for a royal blue skirt and jacket over a printed silk blouse, all by British design house Preen.