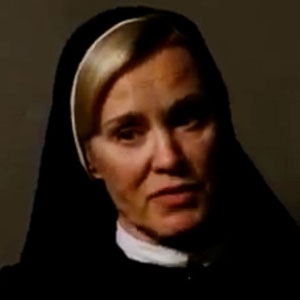 Youtube
They've teased us for months with the creepiest and most mysterious promos known to man, but now American Horror Story has dropped a trailer with actual footage on us. And spoiler alert: The terror continues. Plus there's what appears to be an alien abduction, sex, Jessica Lange laying the smack down and more sex.
Please join us while we break down the trailer with five things we learned about AHS: Asylum:
1. Briarcliff Is No Joke: OK, that was a given, but the mental institution that is holding the likes of Evan Peters will not be afraid to show us their dirty tricks to "cure" the clientele. For example, Asylum will pull a Clockwork Orange with Kit (Peters) to ensure he gets the correct exposure to whatever he's looking at, whether he likes it or not.
2. First Look Inside the Asylum: The most disturbing and intriguing promos that AHS has cranked out involved staircases, and based on this aerial shot of the hospital, that theme will probably play out in some crazy way during the season. And really, is there anything more chilling than running up stairs while some chases you and grabs at your feet?
3. Jenna Dewan Is in Trouble: We know that Adam Levine and Dewan play a just-married couple who take a trip to Briarcliff in present day for their honeymoon (because that's the most romantic place on earth), but we weren't sure what exactly was in store for them until this trailer. In short: bad things. They'll definitely get more than they bargained for when Bloody Face and other terrible ghouls haunt the crap out of them. And it doesn't bode well for the lovers if they are separated inside the asylum. Where is Levine?!
4. There Will Be Blood, and Sex: We cannot wait to see who lusts after whom in this season of AHS, because the combinations feel truly endless. And just who is straddling Monsignor Timothy Howard, played by Joseph Fiennes? We can't wait to find out! And because it's FX and Ryan Murphy, you know we'll get some pretty graphic scenes. Fingers crossed for a peek at Adam Levine's naked backside! Yes, we are kind of perverts, but we were spoiled by season one's showing of Dylan McDermott's bottom in the pilot episode.
5. Alien Abductions or Poltergeists? Evan Peters is dancing on the ceiling! Well, he's not so much dancing as he is held there by an invisible force. Murphy mentioned this season would deal with aliens, and we know Peters' character gets admitted because his talk of an alien abduction convinces people he's crazy and is responsible for his missing girlfriend. But it looks like he was either telling the truth or some other demonic force is at work.
Watch the full trailer below, and then head on down to the comments to speculate on what clues the video gives us: