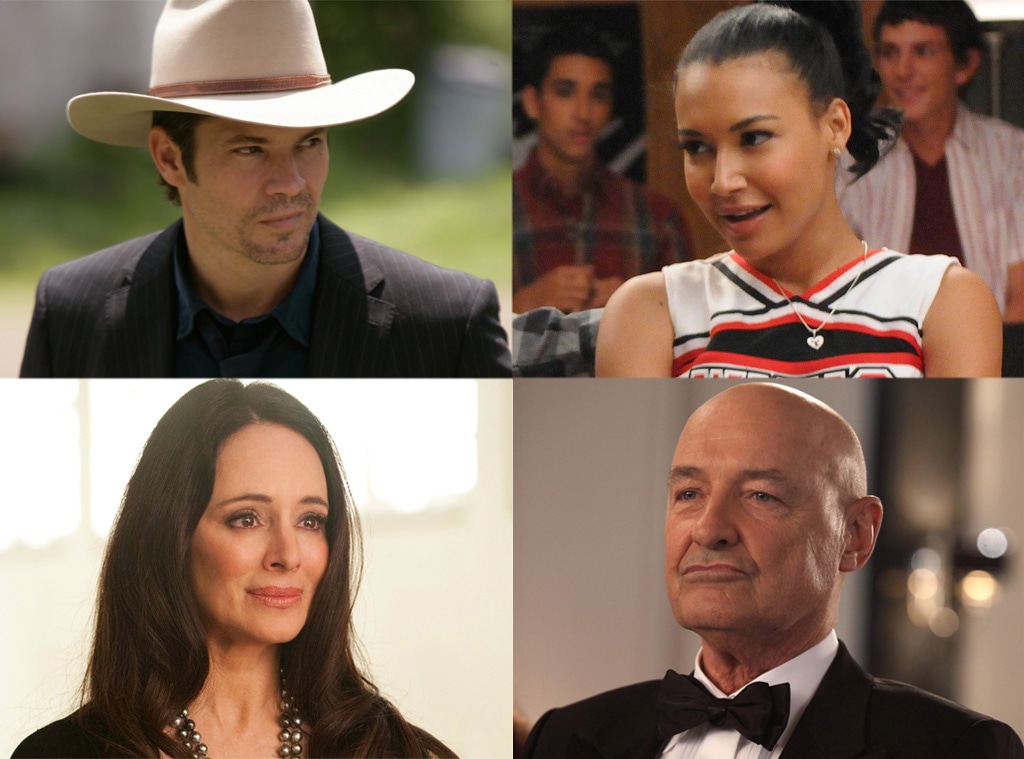 FX; FOX; ABC
A love triangle on Glee? Who would've thunk?
Everyone, because nobody does an angst-ridden love triangle like Glee. Are you prepared for the ones up ahead? Don't worry, we talked to one of the stars who make sure to warn us about one that is surely on its way. And the boss of one of our favorite shows on earth, Revenge, talked to us about the new season. All that, plus Justified, The Office, 666 Park and more in today's Spoiler Chat:
Lucas in N.H.: I need Santana Scoop!  When do we get to see her?  And more importantly when can we hear her sing??
Yes, you will see her and hear her sing in this week's episode of Glee. But we must warn you, Chord Overstreet dropped some scoop on us that will not please Brittana fans when we asked if Sam might hook up with Brittany soon. "We'll see. There's a bunch of different love triangles going on this year. There's a lot of interesting stuff so maybe," he tells us. "It depends on if her and Santana are still together. We don't know yet." Any fans of Sam and Brittany out there?
Shannon: What's coming up for Daniel on Revenge?
Hell hath no fury like a not-so-dead mother scorned. "It's going to really twist up Victoria's relationship with Daniel," Mike Kelley teases of Victoria's re-entry into the world of the living. "When she got on that plane, part of it was because she knew Daniel had double-crossed her with his father and chosen sides. You don't cross Victoria without some sort of payback." Yikes!
SSgurl: Wow, I loved the 666 Park premiere! Die-hard Terry O'Quinn fan here. Any chance he's a good guy or totally evil? Still want back my good John Locke.
Understood! We caught up with Terry and Dave Annable (not bad company to be in) and Terry himself says: "So far I'm eviler than evil." Dave also hints that there will be plenty of mystery (and fright) to come, saying: "You know what is so exciting about our show, is after we read each script there are so many questions that were unanswered. And I think they're going to answer them over the course of the season and the series as to who they are and what our role is and why I'm being embraced by Gavin (O'Quinn) and Olivia (Vanessa Williams). It is exciting. We get the scripts in and they're really scary and the relationships are budding."
Luke in Dallas: I'm not watching The Office this year unless Steve Carell comes back at least for a cameo.
We've got a feeling that somehow, Michael Scott will come back. We also asked cast member Ellie Kemper if she thinks Carell will return, and here's what she had to say: "I really hope that Steve comes back because we haven't seen him on the show obviously since he left. It's his call, so I guess we'll see. Maybe just a phone call." Another face who is probably returning? Mindy Kaling, aka Kelly Kapoor. "I don't think it would be too out of the realm of possibility for her to come back," Kemper tells us. "I hope she does. She's Erin's best friend in the office, and she just leaves!"
Kasey: Could we get some Justified spoilers? Me and my husband are obsessed.
It's funny you should talk about your spouse, because in the new season of the FX hit, we'll find out one character has been hiding a marriage! And let's just say that sparks definitely fly when Raylan meets the secret husband or wife. And not in the way you might think.
Ronnie: I need NCIS spoilers like I need air!
Then let us fill your lungs with a breath of fresh scoop. Pauley Perrette tells us all about the guest stars coming to NCIS, and the plotlines that come with them. "Right after the explosion we have our psychiatrist come in who is played by the incredible Steve Valentine, who we all adore," she says. "And then we also have Billy Dee Williams joining us. We're bringing back Ralph Waite, who plays Gibb's father, who is so beloved to us. Abby's brother, that she didn't know she had, who we met last year, we'll get to revisit that storyline." And get a load of this factoid about the guy playing her brother: "He's played by Daniel Louis Rivas, which is so fun. We actually look like twins, and he's my ex-boyfriend in real life."
Ali: Got any Revolution scoop for us?
You mean besides the fact that NBC already gave it a full-season order? Fans should prepare to meet Neville's wife Julia in an upcoming episode. She's beautiful, strong and dangerous. Think Lady Macbeth.
Want your TV questions answered in our next Spoiler Chat? Email them to tvdiva@eonline.com or tweet at @KristinDSantos!
—Additional reporting by Jenna Mullins and Tierney Bricker