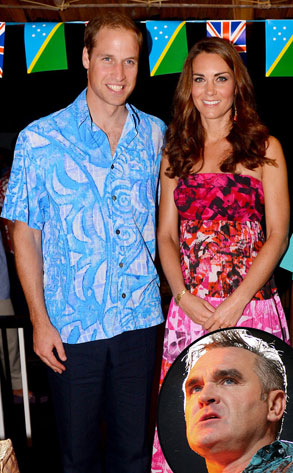 WILLIAM WEST/AFP/Getty Images, Dove Shore/Getty Images
Legendary Smiths frontman Morrissey isn't holding back sharing how he really feels about the royal family.
No stranger to controversy (or anti-royal comments) the rocker is once again slamming the British monarchy, and this time he's taking digs at Prince Harry and the entire royal family.
"I wasn't surprised by Harry in Vegas because he's always been an absolute idiot," Morrissey said in an interview with the Herald Sun in Australia in reference to Harry's infamous nude photo scandal. "The monarchy is foremost a business, and it's important to them that the British public continue to finance the excessive luxurious lifestyles of the now quite enormous, wasteful and useless 'royal' family. I find it very sad."