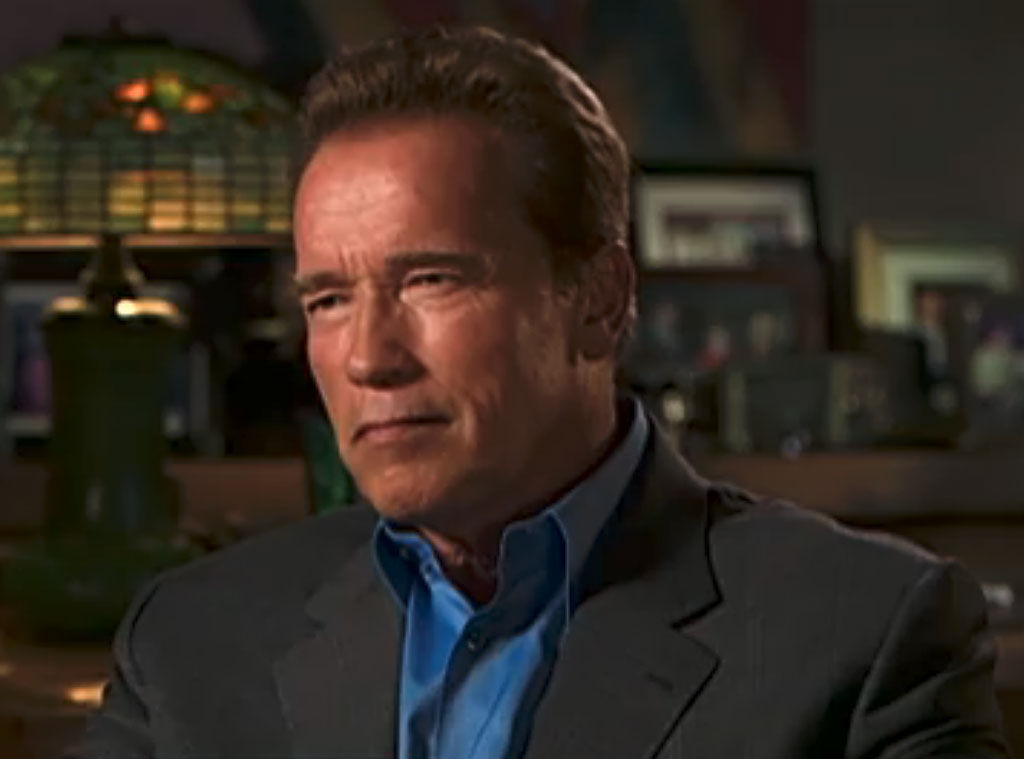 CBS
He played Mr. Freeze in Batman & Robin. But little did we know Arnold Schwarzenegger's emotional world was frosty as well.
At least that's the former Governator's excuse for the deceptions he committed—from multiple affairs to fathering a child out of wedlock with the family housekeeper—that wrecked his 25-year marriage to Maria Shriver.
Making the media rounds plugging his new autobiography out today, the aptly titled Total Recall: My Unbelievably True Life Story, Schwarzenegger opened up about his scandalous personal life and how the self-control he mastered early on as a bodybuilder prevented him later from owning up to the deceitful behavior that hurt the ones he loved.
"The thing that can really make you lose is if you get emotionally unbalanced—if I put everything that is happening emotionally on deep freeze. So I became an expert at living in denial," the erstwhile action star told CBS' 60 Minutes. That prompted his biggest secret: refusing to take responsibility for his 1996 betrayal when he cheated on Maria with the family maid, Mildred Baena, who bore his son, Joseph.
Scharzenegger at first denied paternity when Shriver questioned him years ago after the child's resemblance to him became obvious to everyone. It wasn't until the day after he left office when she confronted him again that he finally admitted being unfaithful.
 "I think it was the stupidest thing I've done in the whole relationship. It was terrible. I inflicted tremendous pain on Maria and unbelievable pain on the kids," the former governor confessed.
But on ABC's Good Morning America on Monday, when asked why he didn't come clean about Joseph for so long while continuing to pay for the boy's education and giving Mildred extra money, the Terminator star revealed he was driven by fear.
"I was just, I think, too scared about losing everything, too scared about losing her, losing the family and I just didn't know how," he said, adding that he didn't fire Baena because he felt it would've made things "worse" and he could control the situation better.
"It was the best way I could handle it," he answered, chalking it up to his penchant for denial again.
That wasn't the only fling. The 65-year-old actor admitted last week to engaging in a "hot affair" with his Red Sonja costar Brigitte Nielsen while he was living with Shriver, but he said that dalliance convinced him to marry the NBC journalist and Kennedy scion.
When 60 Minutes correspondent Lesley Stahl quizzed him about other indiscretions, Schwarzenegger said that was between him and his estranged missus, but did acknowledge, "I'm not perfect."
Clearly. Among the other revelations in Arnold's book?
The thespian's penchant for secrecy extended to the point where he initially told his doctor he wasn't going to inform Shriver about the open-heart surgery he underwent in 1997.
He also confessed to barely discussing his running for office with Shriver until just days before the 2003 filing deadline, prompting her to burst into tears. After talking with her mother, Eunice Shriver, who told her Arnold would be angry the rest of his life if she stopped him, Maria gave up her television career and supported him wholeheartedly.
Schwarzenegger also revealed he performed gay marriages while serving as California's governor, one of which was the wedding for his ex-chief of staff—this despite his publicly stated opposition to gay marriage in the blue state.
"I performed the wedding in the office," he explained, adding, "I married her in the office—in the governor's office."
The native Austrian told GMA that he recognized that rebuilding his relationship with his kids will take time after the damage wrought by his lies. He also expressed hope that despite inflicting so much pain on Maria, whom he continuously praised in Total Recall as a loving partner and friend, he might one day reconcile with her. Shriver has since filed for divorce.