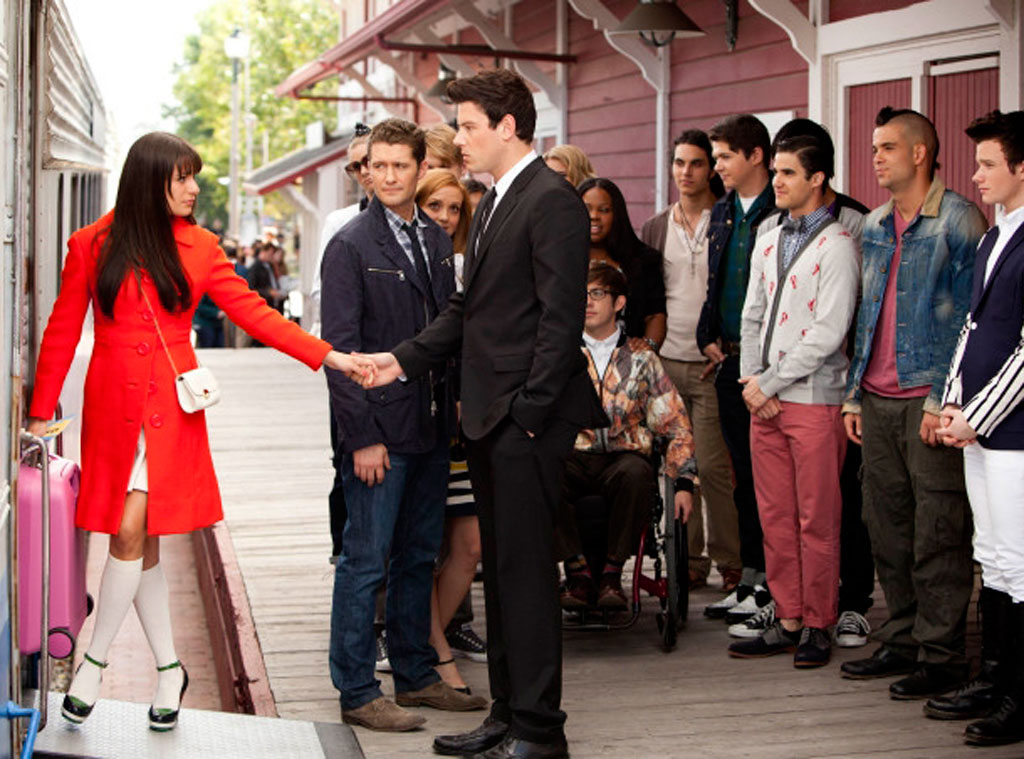 Adam Rose/FOX
It's a mad, mad world on Once Upon a Time.
Sure, last night's premiere totally rocked our socks off (do the kids still say that?), but we couldn't help but feel like something was missing. Or should we say someone, like a certain Political Animals star? Yes, we've got scoop on Sebastian Stan's OUAT return now that the show has gone all Lost on us with (spoiler alert!) multiple universes.
If that wasn't enough for you, we did a little digging and found out about a newbie coming to Grey's Anatomy and got some inside intel on Finchel's future on Glee! Plus, we've got all the dirt on the Supernatural episode that barely features the Winchester brothers, (There should be law against hiding the pretty, no?), Dexter, Hart of Dixie and more...
Tammie: Will we see Finchel reunite on Glee after the breakup episode?
Since both Kurt and Rachel make a trip back to McKinley around episode seven, we'll say it's definitely a possibility. And Jane Lynch told us that Finn would be sticking around Lima to help out with a certain glee club, so we'd bet our bottom dollar that Finn and Rachel will cross paths when they're both back in Ohio.
Jamie McCarthy/WireImage.com
KelliAnn: Holy crap, the OUAT premiere was amazing!!! But can you please tell us if Sebastian Stan will be back?
Yeah, not very nice of the writers to tease us by bringing Jefferson's hat to the premiere party, but not the man himself, right? We're happy to report that Stan will be back soon, as both the Mad Hatter and Jefferson. So yes, flashbacks will still be happening.
Penny in New York: The Grey's Anatomy premiere killed me! What's next?
Now we get in a group hug and sob over the loss of McSteamy. But life goes on, so now would be a good time to tell you that based on this character description, Grey's is looking for a female McSteamy replacement. A new doctor will be joining the team, and she is described as brilliant and charismatic with dark hair. Sound familiar? And this new doc could be at Seattle Grace for longer than just a couple episodes. But don't get too attached...we all know what happens when you fall in love with someone on Grey's Anatomy. (Sob!)
Dana: Any scoop on The Mindy Project? I loved the premiere!
Later this season we'll meet a few people from Mindy's past, including her former babysitter who keeps finding herself in medical emergencies, as well as Alex, an old college friend, who has traveled the world. Oh, and we'll also meet one of Mindy's young cousins.
Ramona: Kristin, I've barely seen any Supernatural scoop from you! What gives?
It's because Jensen Ackles and Jared Padalecki are just too tough to look at. Ah, we kid. But we were hesitant to give up this scoop because it makes us a wee bit sad. The fourth episode of the new season will barely feature Sam and Dean, because it's focused on three teenagers who get wolf powers, and in a nod to the movie Chronicle, it's shot entirely with handheld camera.
Nora in Green Bay, Wis.: Hart of Dixie scoop on my boy Wade!
Ready to fall in love with that charming Southern sex-on-a-stick? In the eighth episode of the season, we get to see Wade working with...wait for it...children. Doesn't that just melt your heart into a pile of goo? He'll take an interest in one particular kid who is a total outcast while on a camping trip, and Wade will work his magic and get him to come out of his shell. Let's just hope that Zoe sees all this and falls even more helplessly in love with Wade and they get married and have babies. Too much to ask?
Beth: The Dexter premiere was insane! Loved every minute of it. What's next for Dexter and Deb now that he admitted to being a serial killer?
"It has rocked his world. He has to learn to live with that at any moment, she could, if she wanted to, turn him in," executive producer Sara Colleton tells us. "It's a level of uncertainty he cannot control…he's got a loss of freedom and a greater sense of responsibility than he's ever had and that's difficult." As for Debra, she teases, "Something will happen that will absolutely bedevil her and she'll have to figure and navigate her own way and path through the problem." 
Want your TV questions answered in our next Spoiler Chat? Email them to tvdiva@eonline.com or tweet at @KristinDSantos!
—Additional reporting by Jenna Mullins and Tierney Bricker