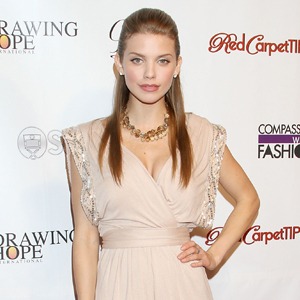 Jonathan Leibson/FilmMagic
AnnaLynne McCord is lending her voice to a very important cause.
The 90210 star hosted the Life Is Love event in L.A. on Sept. 22, which benefited the Somaly Mam Foundation, an organization that seeks to end human trafficking and slavery around the world.
During an emotional speech, McCord revealed that she had been a victim of sexual assault.
"Has anyone ever been raped? Sexually abused? Not said 'no' when you felt you didn't have the right to?" she asked. "I know what it feels like."
The actress explained to Us Weekly that she once had "a very similar experience to what these girls [who the foundation tries to help] go through 20 times a night."
"It happened to me once by somebody that I know, and it is a very interesting thing to feel that you do not have the voice to say 'no.' It wasn't an attack or anything like that—I just had no voice," she said. "I did not know how to say, 'I don't want this. Please do not do this to me.'"
The situation happened when McCord "found myself in my own home being hospitable, and that hospitality was taken advance of at an extreme level."
"I did not have a voice," she explained. "And now I do, and I'm practicing using my voice for others. Finally I can say I was taken advantage of—not from my own shame that I did something to deserve that—and now I can have a clear conscience."
Several of McCord's 90210 costars—including Jessica Stroup, Matt Lanter, Shenae Grimes, Justin Deeley and Ryan Eggold—came out to support the actress-advocate. Grimes tweeted that she was "so proud of my sister, AnnaLynne, for all her hard work with Somaly Mam over the years."