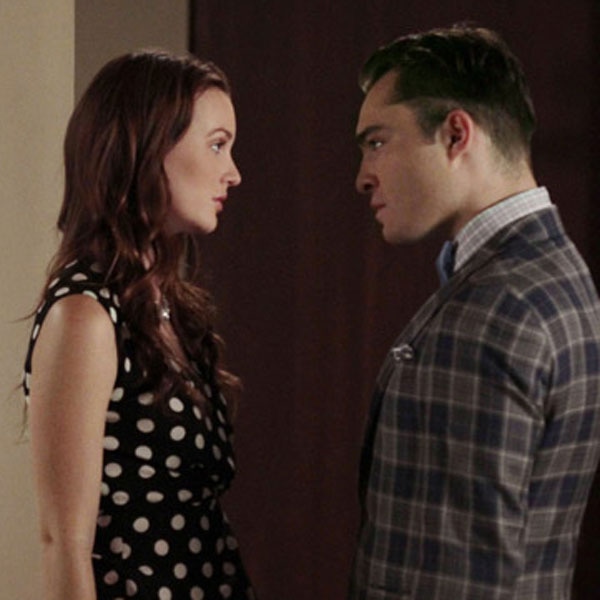 Giovanni Rufino/The CW
"I have a feeling this fall could be my last season…the best is yet to come," Gossip Girl says in her last premiere voice-over ever.
Yes, it really is ending, people, a fact we were brutally yet joyously reminded of when the screener for the season six premiere of Gossip Girl landed in our mailboxes.
Obvs, we popped the disc in faster than you can say "XOXO." So what can fans expect from "Gone Maybe Gone"?
1. Chuck and Blair: Things pick up right where we left off...with Chuck (Ed Westwick) and Blair (Leighton Meester) in Monaco. But instead of in the casino, they are in the hotel room. Need we say more? Oh OK, we will: The couple is definitely not getting a security deposit back as they may or may not break something in the room.
Though they promise to go their separate ways and be together eventually, they deal with some jealousy issues: Blair spends a lot of time with her head of PR, while Chuck meets up with a beautiful businesswoman with ties to his father.
Still, they are stronger than ever, as Blair repeats, "I'm all in." And yes, the engagement ring comes into play, although we were a bit disappointed not to learn exactly how Blair came into possession of it.
2. Do You Know Where Serena Is?: "She does it all the time. I'm sure it's nothing," Blair says of Serena (Blake Lively) disappearing, which soon brings together the whole globe-trotting gang back to the UES on a wild good chase. Of course, Blair, Nate (Chace Crawford) and Chuck team up to find her. "We're a family," Chuck says. Non-Judging Breakfast Club FTW! (Alas, Blair and Serena fans should prepare for a bumpy season.)
3. No Damsel in Distress: Too bad S doesn't need rescuing. She's actually happy. Which leads us to Stephen (Barry Watson), Sabrina's—well, that's the name she's going by when we first see her—very serious and successful BF.
4. Writer's Block: "Real names…no holding back," Georgina (Michelle Tratchenberg) guides Dan (Penn Badgley) when he's writing his tell-all second novel. (She also hilariously calls the sex scene between Serena and Dan "Fifty Shades of Boring.") Still, he's stuck on the ending.
FYI: Blair and Dan haven't spoken all summer, though B has tried to reach out. Dan's not interested in her excuses for dumping him. The two share an enlightening and much-needed conversation. (Dan voices a lot of what the GG audience has been saying.)
5. New Roomies: Rufus (Matthew Settle) has a new roommate: Ivy. Yes, Lily (Kelly Rutherford) finds out and is not pleased. Yes, it's awkward. Yes, it gave us an icky feeling. That is all. 
What do you think, Gossip Girl fans? Does the season-six premiere sound like the proper beginning of the end? And more importantly, are you ready to accept the fact that this is the final time we'll be with our Upper East Siders? Head on down to the comments and tell us what you'd like to see out of GG's sixth and last season.