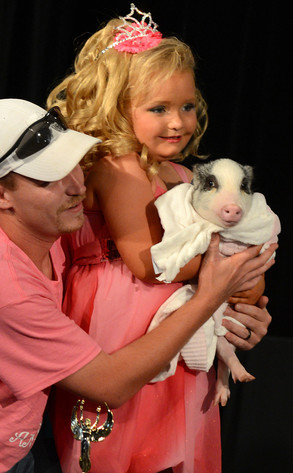 INFphoto.com
Does the fact that we know we're getting more Honey Boo Boo episodes make tonight's season finale all the more exciting? We're not psychologists but…heck yes!
In tonight's poignantly titled episode "It Is What It Is," Anna finally had her baby, and Alana Thompson took to stage at the Miss Sparkle and Shine pageant. Putting aside the fact that we are oddly entertained by Here Comes Honey Boo Boo, we've also been watching this season to see if all that hard work paid off for Alana. Did she take home the top prize?
Honey Boo Boo Sparkles and Shines: "Work it, Smoochie!" The whole family comes out to support Alana as she competes for the title in the Miss Sparkle and Shine pageant, but the competition is hella stiff. For the Outfit of Choice portion, Alana donned a shiny blue swimsuit, which she thought made her look like a blueberry. She was correct. But she was a sassy blueberry while working that stage! Despite all her hard work and the fact that she won over the crowd like a seasoned pro, Alana did not place in the top three. She did, however, won the People's Choice Award. But there was one more surprise in store for our little Honey Boo Boo child: Glitzy the pig!