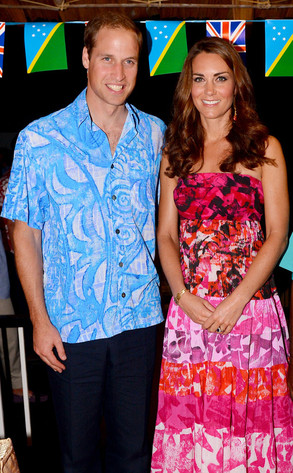 WILLIAM WEST/AFP/Getty Images
Even a princess can commit a fashion faux pas—unwittingly, of course.
On Sept. 16, Kate Middleton and Prince William thought they were dressing festively and appropriately for a party in the Solomon Islands. Unknowingly, however, the 30-year-old couple donned a dress and shirt from Cook Islands (located nearly 3,000 miles away from the Solomon Islands) and offended the locals.
A Clarence House spokesperson explained to E! News how the style snafu happened, saying: "Items of clothing were left in The Duke and Duchess's hotel room as had previously been agreed with the Solomon Island Government (SIG). Given that the items were not of the same design as the Royal Household had been informed previously, the Duke and Duchess's staff undertook to check that the items of clothing were indeed the gifts of the Government and not a gift from any other individual."