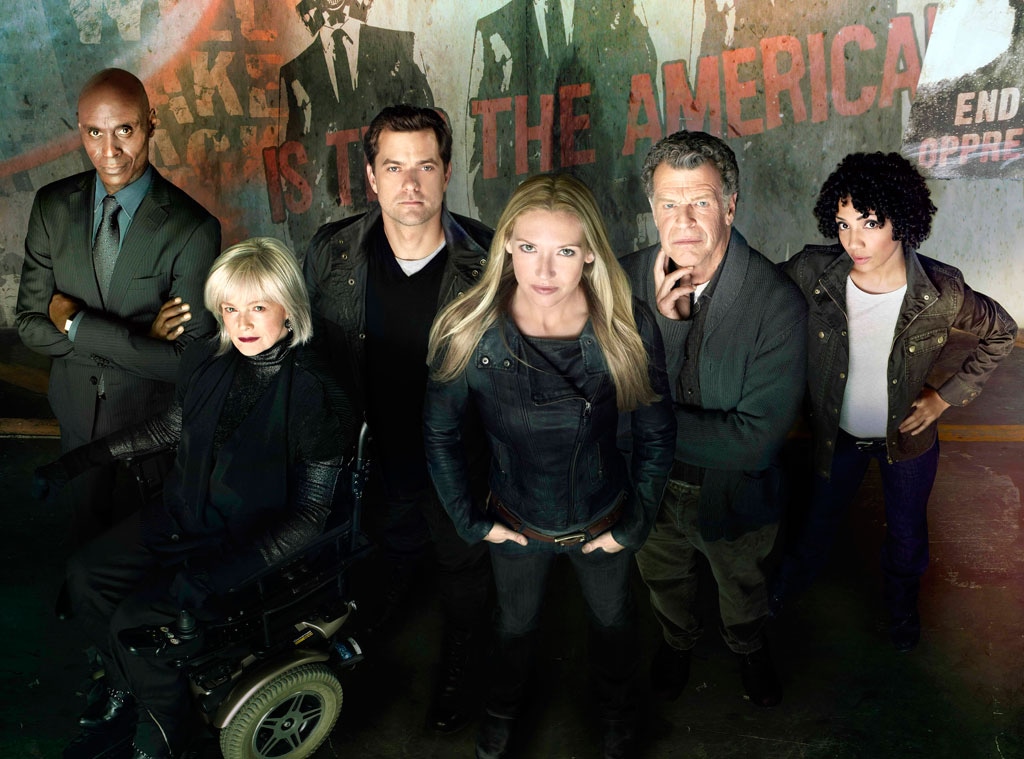 Fox
Beware of the fedoras!
Fringe's fifth and final season (sniff!) officially kicks off this Friday, taking the team and fans to an Observer-ruled 2036, a time when eggs come in stick form and being preserved in amber is all the rage!
We've got an exclusive first look at the group reunited in this season five promo shot. It's time to fight for the future, y'all!
In the shot, our beloved cast stands defiantly together in front of a wall plastered with anti-Observer messages such as "End the Oppression."  Included in the shot along with Anna Torv, Josh Jackson, John Noble and Jasika Nicole are Lance Reddick as Broyles, who is the Native Liaison at Fringe Division in the future, and Blair Brown as Nina Sharp, who helped Walter and Etta (Georgina Haig) free the gang from amber in season four's 2036-set episode "Letters of Transit."
"I feel like the great unfinished mystery of the show are the Observers," Jackson told us of season five. "And we deal with them now really directly throughout the entire final season, and there are a couple of really gee-whiz moments that pull from the history of the show as we've already seen it. So there's a couple of those reveals, of the stuff that they've told me, that I think are just awesome. The place that they're trying to take the characters at the end, at least for me, seems like a satisfying and in some ways almost logical, sort of necessary ending for each one of these characters."
Fringe's fifth and final season premieres this Friday at 9 p.m. on Fox.