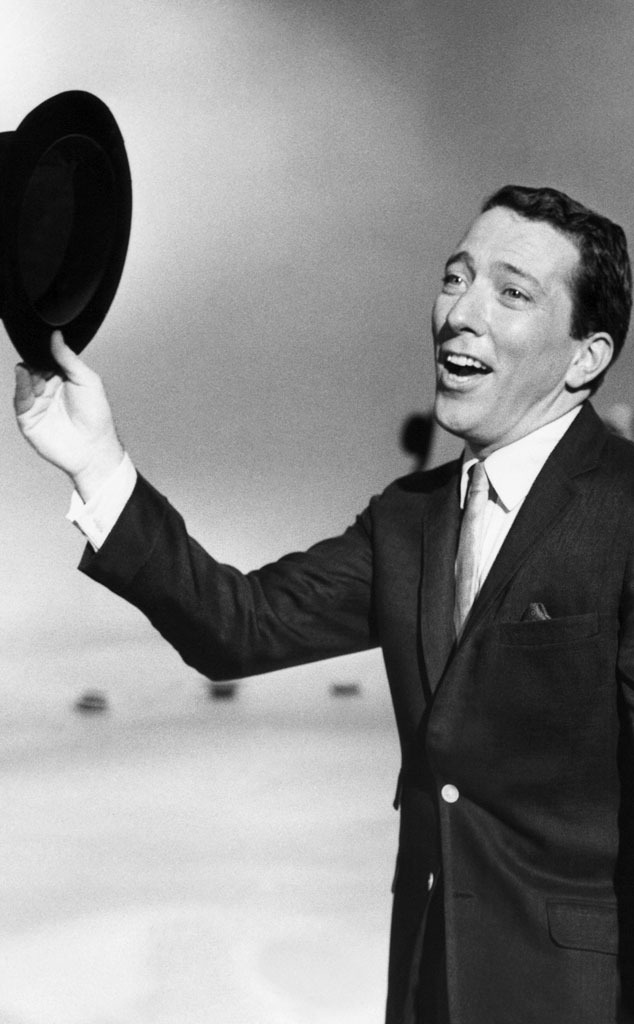 AP Photo, File
Andy Williams was, and probably always will be, a little bit of Christmas. And a whole lot of "Moon River." 
The crooner, whose signature songs include that romantic ballad and the holiday favorite "It's the Most Wonderful Time of the Year," died Tuesday night at his home in Branson, Mo., following a yearlong battle with bladder cancer, the publicist Paul Shefrin said. He was 84.
"Music to Watch Girls By" and "Days of Wine and Roses" were other Williams standards.
"It gives me a great deal of satisfaction to do a show I think the audience really loves and needs during this time of year," Williams once said of the Christmas shows he staged annually.
It was at one of those shows, in November 2011 in his longtime theatrical home of Branson, that Williams revealed he'd been diagnosed with bladder cancer. (His survivors, wife Debbie and adult children Robert, Noelle and Christian, have asked fans to donate to the Bladder Cancer Advocacy Network.)
In the 1960s and 1970s, Williams marked the yuletide season before millions of TV viewers. On the occasion of his second prime-time Christmas special in 1963, the singer introduced "It's the Most Wonderful Time of the Year."
"I did that every [song] Christmas, and then other people started doing it, and over 30 years it's become a big standard," Williams told the TV Academy.
Though never out of style, "It's the Most Wonderful Time of the Year" was a chart-climbing single in Britain as recently as Christmas 2007.
Born Dec. 3, 1927, in Iowa, Williams got his start as a child in the family act, the Williams Brothers. He performed in nightclubs, appeared in movies—and was even said to have supplied Lauren Bacall's sultry singing voice in 1944's To Have and Have Not. (Bacall long denied the rumor; modern-day movie historians debunked it.)
Williams went on to become a solo hitmaker in the 1950s with his light-as-air tenor. TV, however, might have been his true medium. For a decade, The Andy Williams Show was a pleasant, sweater-clad diversion that introduced audiences to the likes of the Osmonds and earned a trio of Emmys.
In the 1970s, Williams enjoyed a long run as host of the Grammys—in fact he emceed the ceremony's first televised edition in 1971 and was a show fixture through 1977.
Williams found himself embroiled in tabloid drama when his ex-wife, singer Claudine Longet, was tried for manslaughter in the shooting death of her boyfriend, skier Spider Sabich. Williams stood by the mother of his three children and told jurors at Longet's sensational 1977 trial that he believed her when she said the killing was an accident. In the end, Longet was convicted only of a misdemeanor.
Through it all, Williams continued to perform, taking only a one-year break from 1999 to 2000 to treat a node on his vocal cords with rest.
Said Williams to the Associated Press: "I guess it just got tired of singing all my life." 
(Originally published Sept. 26, 2012, at 7:08 a.m. PT)