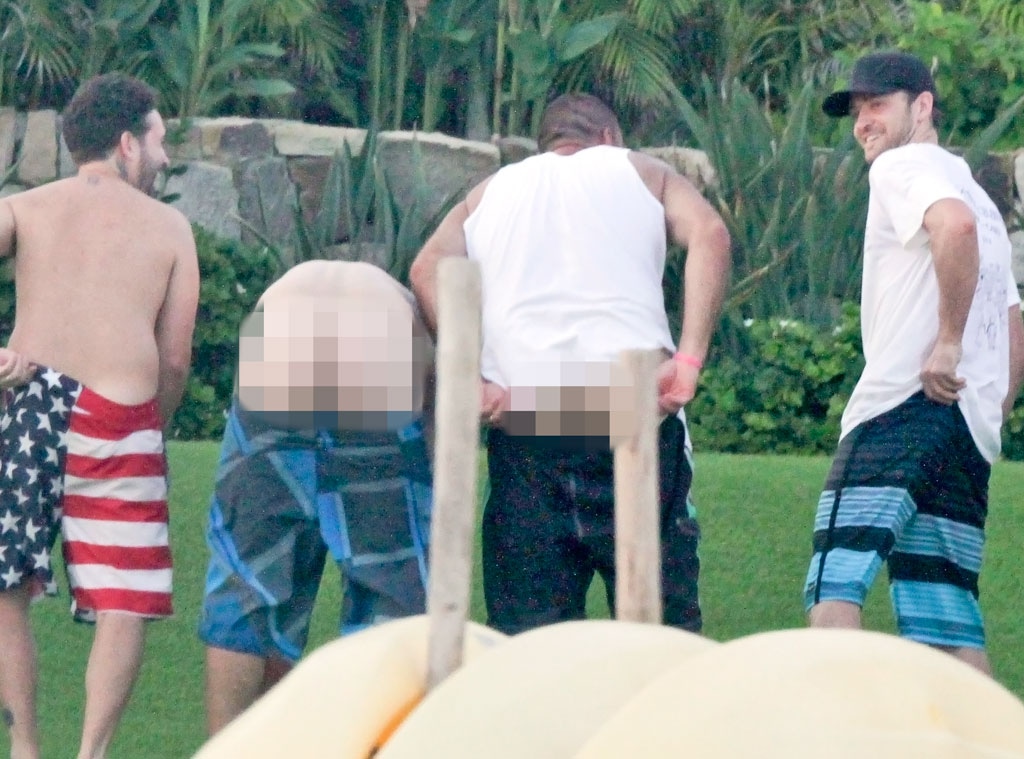 Clasos.com / Splash News
Boys will be boys.
Justin Timberlake and his friends headed south to Cabo San Lucas for the singer-actor-entrepreneur's bachelor party this past weekend. And although one witness told E! News the Mexican getaway appeared to be "quite tame," including lounging poolside and hitting the golf course, one revealing picture exclusively obtained by E! News paints a very different picture.
After a rousing game of volleyball, J.T. and his bros realize they are being photographed. At that point several of Justin's friends pull down their swim trunks and give the photographer an R-rated view. In fact, only the A-list future groom (who presumably knows better) holds onto his shorts, smirking playfully as his pals have some fun.
A source tells E! News J.T. and his boys arrived at El Dorado, a private-members only resort, mid-afternoon Friday and left at 3 p.m. Sunday.
Justin's pal Rob Knox posted an Instagram photo of the future groom headed to the golf course on Saturday. The avid athlete didn't look too competitive, though, as he flashed double peace signs for the cameras.
And on Monday, it was back to the grind for J.T.  The Social Network star was busy promoting the "new Myspace" Monday, even tweeting a link to a video to the improved, enhanced site, of which he owns a stake.
Don't call it a comeback!
—Additional reporting by Melanie Bromley and Holly Passalaqua