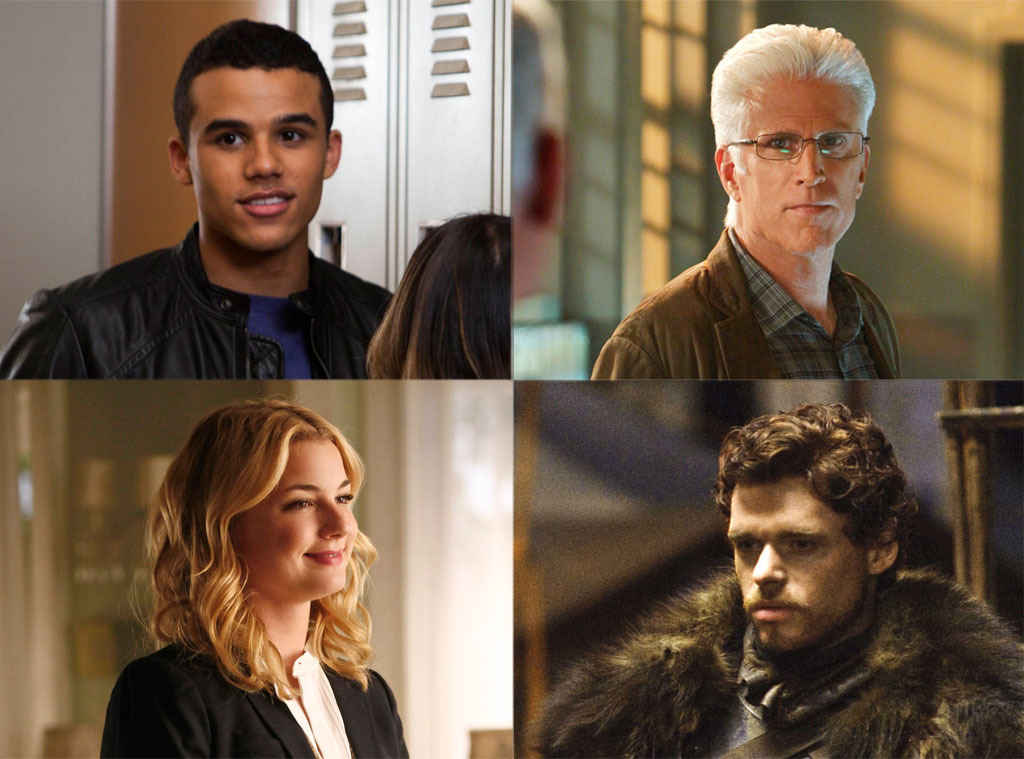 Sonja Flemming/CBS; HBO; Mike Yarish/FOX; Vivian Zink/ABC
One of the best parts about the Emmys? (Besides judging everyone's outfits and ranting about who got snubbed, of course.) Doling out all the scoop we managed to get our hands on from the carpet, backstage and the afterparties. And we did it all without breaking a sweat. Just kidding, it was crazy hot on Sunday and our faces basically melted off.
Today, we've got some great bites from the stars of Modern Family, Revenge, Game of Thrones and so much more! And we've also got some Glee and Vampire Diaries intel that you do not want to miss. All that, plus CSI, How I Met Your Mother and more in today's Spoiler Chat:
Amanda: I love Jake and Marley on Glee...They'll get together soon, right?
Do you think Glee would ever miss the opportunity to have a juicy love triangle? You must be cray-cray! (Sorry for our use of cray-cray, but that's the only way we knew how to describe it). Jacob Artist confirmed to us that yes, the love triangle that started in "Britney 2.0" would continue between Kitty, Jake and Marley. Snotty blond cheerleader versus the beautiful but quirky brunette? Sounds familiar, eh? But don't be too hard on Jake's bad-boy ways, because he's had a rough time growing up. "I think it's kind of stemming a little bit from his family life. He has a whole background that will be fun to explore as the season goes on that kind of justifies his behavior," Artist tells us.
Jessie in San Diego: Emily Van Camp looked so beautiful last night and it just reminded me how badly I need Revenge scoop!
Agreed. That girl is so pretty it hurts to look at her sometimes. Now, onward with scoop! Episode six of Revenge's second season is called "Illusion," and someone is bringing in a retired judge to officiate over "an important ceremony." Hmmm, now what kind of ceremony could that be?
Jack P.: Game of Thrones was robbed…again. But did the cast say anything about the new season?
We chatted with Richard Madden on the red carpet, and he offered up this titillating tease about season three that will surely make GoT fans get their panties in a bunch: "[Season three] makes season one and two like a warmup. Every episode is like a finale episode." Mind. Blown. 
Melanie in Rockford, Ill.: Don't care about Damon and Stefan…I wanna know about my Queen Elena on TVD!
If you're ready for Elena to start taking control of her life, then season four is the season for you, my friend. "This season is really intense, for me especially because I am a vampire," Nina Dobrev tells us. "I'm getting to kick some more ass. Elena is becoming a tough cookie. Before she used to talk about being independent, and now she has a chance to be." Sounds like Elena is going to be a bit more Katherine-esque this season.
Boo: Loved the interview with Carter Bays. Do you have any more HIMYM tidbits?
Looks like Barney will be moving on from Quinn really quickly after their inevitable breakup, because he'll be courted by not one, not two, but three suitors. OK, "suitors" isn't exactly the right term for it. Three strip joints (including his old haunt the Lusty Leopard) will be vying for Barney's business in the seventh episode of the season, and using every dirty trick in the book to win him over. How else do you move on from a broken engagement than with dancing girls on poles? 
Ann in Salt Lake City: Original CSI spoilers, if you got them.
Elisabeth Harnois tells us that the new season of CSI is going to put us through the wringer, emotionally. "So my father is left on the brink of death in the end of last season. We find out what happens to him and I get resolution with that relationship," she says. "Ted's granddaughter is kidnapped, so that gets resolved. And we kind of revisit cases that have been near and dear to the fans' hearts. Certain characters that were killed in past seasons, we kind of revisit their storylines. So there is a lot of weaving. The theme I think is weaving in all our personal lives with the procedure. And that makes it very personal and emotional for all of us, which is cool."
ABC/BOB D'AMICO; Jamie McCarthy/WireImage.com
Kyle: Love that Matthew Broderick is coming to Modern Family. Tell me more!
Fun fact: even though most celebrities are dying to cameo on TV's most celebrated show, creator Steven Levitan tells us that they were the ones who approached Broderick with the role, and not the other way around. "He didn't come to us. He's a very good friend of one of our writers, so it was a natural occurrence. Especially because we had Nathan Lane, we knew we had to have Matthew," he says. As for the rumor that Broderick will be playing a part in the accidental gay date that Phil goes on, Levitan only offered up this coy reply: "He is playing a friend of Phil's. A very special friend. That's all I'm saying!"
Cooper: Any Girls scoop? The cast looked amazing last night!
They certainly did, and we managed to grab Allison Williams last night at the HBO afterparty to chat about season two in comparison to season one. "The situations are a little bit different," she tells us. "We have some great ensemble moments, but a lot of it is getting to know each one of them a little bit better."
Want your TV questions answered in our next Spoiler Chat? Email them to tvdiva@eonline.com or tweet at @KristinDSantos!
—Additional reporting by Jenna Mullins, Tierney Bricker and John Boone