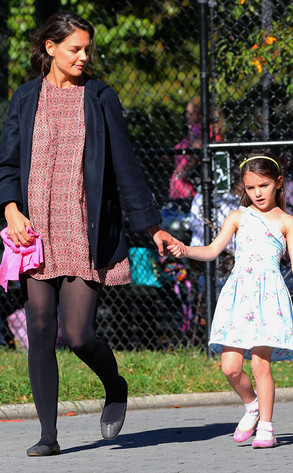 Splash News
Shield your eyes, Pacey Witter! Joey Potter's in the park with another man's child.
Katie Holmes (aka Dawson's Creek's smirking, thoughtful girl next door) took real-life daughter Suri Cruise to McCarren Park in Brooklyn on Sunday. Since Katie's June split from husband Tom Cruise, she and 6-year-old Suri have happily settled in to life in New York City.
And according to Katie's former Dawson's Creek costar and onscreen beau, Joshua Jackson, the 33-year-old actress called him to catch up shortly after she and Tom split.
"Yeah, actually, like any old friend, it was like, 'Oh, hi how are ya? What's going on?' 'I had a kid,'" Jackson said on Canadian talk show George Stroumboulopoulos Tonight on Thursday. "It was very nice, actually."