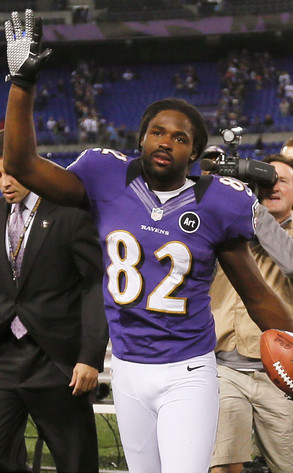 Rob Carr/Getty Images
In honor of tonight's Emmy Awards, we present our pro-football version (NFL-mmys?). Sure, it's an opportunistic gimmick, but we did enjoy some truly great performances this weekend—along with the sorta iffy ones that, in a way, we enjoyed even more.
Best Lead Actor in a Tear-Jerker: Less than 24 hours before taking the field against the New England Patriots in the NFL's most anticipated game of the season so far, Baltimore receiver Torrey Smith got the news that his 19-year-old brother, Tevin Jones, had been killed in a motorcycle accident near his home in Virginia. Smith played Sunday night against New England, and with his team down 13-0 midway through the second quarter, pulled in a gorgeous, diving 25-yard touchdown to get the Ravens back in the game. NBC's cameras showed Smith crying on the bench throughout the game.
Most Outstanding Karma Blowback to a Trick Play: On their first play against the Washington Redskins, the Cincinnati Bengals lined up quarterback Andy Dalton at wide receiver while rookie wide receiver Mohamed Sanu took the snap. In the confusion, the Bengals' A.J. Greene streaked down the field for a 73-yard touchdown pass from Sanu. Cute. But you know what they say about karma.
When the Bengals next got the ball, it was on their own 1-yard line after a perfect Redskins punt, and when Dalton tried a swing pass in the end zone, Washington defender Rob Jackson stepped in front of it for an instant touchdown. In other words, just minutes after embarrassing the Redskins with a silly trick play, the Bengals gave away a touchdown with an interception in their own end zone—only the fifth time since World War II such a play has occurred.