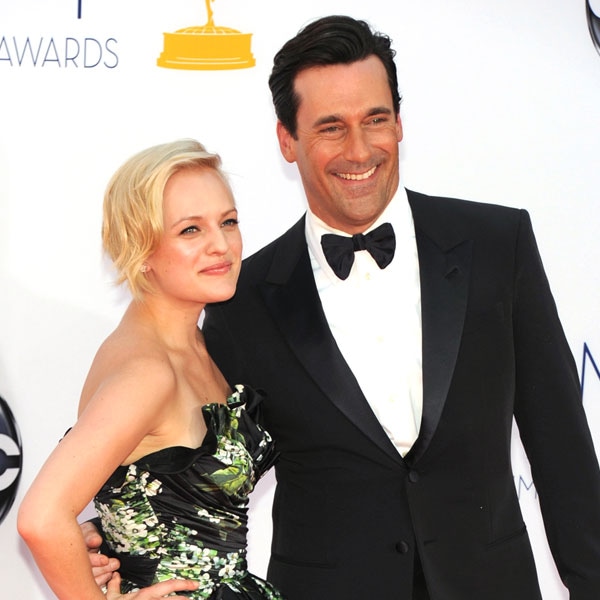 ROBYN BECK/AFP/GettyImages
Close but no cigar, Mad Men fans.
The AMC hit came thisclose to making history at the 2012 Emmy Awards Sunday night: If the show had won Best Drama Series, it would have been its record-breaking fifth consecutive win. Alas, breakout freshman series Homeland and its (very deserving) two leads, Claire Danes and Damian Lewis, had to come along and break Men's streak. 
But could leading man Jon Hamm inadvertently be to blame for the show's loss? 
Despite his stellar Golden Globe-winning work on Mad Men, which has earned him five Emmy nominations, Hamm has never taken home the trophy for Best Actor in a Drama Series. Likewise, he's been nominated an additional three times for his guest work on 30 Rock, yet never cashed that in for a statuette.
So what does all that have to do with Mad Men losing out in the biggest category of the night? Well, Hamm just became a producer on Mad Men this season. And, with the show winning four straight years going into tonight, he seemed poised to finally find a way to take home the Emmy since all credited producers collect the prize.
But Hamm's bad-luck streak continued tonight, with him and his show completely shut out. In fact, Mad Men went 0-for-17 this year, setting the record for biggest Primetime Emmy whiff.
You read that right. Mad Men went from the cusp of being an all-time champ to an all-time loser.
So does that a curse make? Did Hamm-as-producer jinx the show into a historic blanking?
Well, host Jimmy Kimmel did make a crack early on in the telecast expressing his sympathy for Hamm losing again—before Hamm actually lost anything. Hmm...
Still, we'd like to think that Emmy voters just wanted to reward the excellence of Homeland rather than diss Hamm again. After all, he's not close to super snubbee Angela Lansbury (who's failed to win despite 18 Primetime Emmy nominations) or even Susan Lucci (who lost 18 times in a row before finally winning a Daytime Emmy). And we're not ready to buy into any curse.
At least not yet.