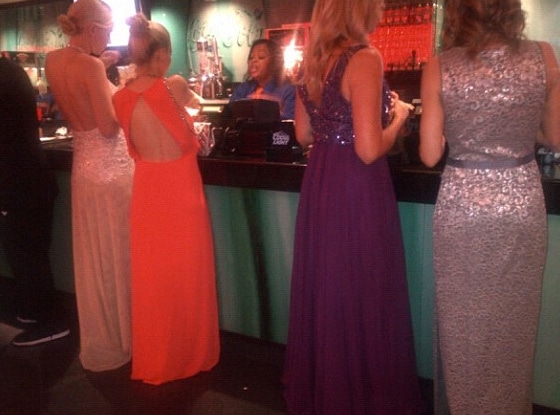 instagram
Let's be honest here: It's fun sitting in the audience at the Emmy Awards. Sure, the show is that much better (and funnier) when surrounded by television's most powerful people, but the real win is seeing what goes on inside the Nokia Theatre during the commercial breaks.
Here are five things you didn't see on TV:
1. Veep Snag: Julia Louis-Dreyfus' dress got caught on stage when she was walking off with her Emmy. As soon as they went to commercial, a crew of men rushed to the stage and started hammering the floor.
2. Tony and Carmela Forever: Sopranos power couple James Gandolfini and Edie Falco hugged when they saw each other. "Good luck with your new show," the Nurse Jackie star told her former costar (we're guessing she's talking about his upcoming HBO drama Criminal Justice). Gandolfini also shared a hug with Melissa McCarthy (not a Soprano).
3. The Bar Never Closes: The consession stands in the lobby are actually open during the show. Stars (like Lily Rabe from American Horror Story) proved they're just like us by enjoying cocktails in big plastic cups.
4. Modern Oops: Did Sofia Vergara have a wardrobe malfunction? She wrapped her fiance Nick Loeb's tuxedo jacket around her waist, at one point, and ran to backstage.
5. Country Guys Know How to Treat a Lady: Awww! Keith Urban kissed wife Nicole Kidman right away after Julianne Moore won the award (Nic was nominated, of course) for Lead Actress, Miniseries or Movie. They stayed for one more award but then took off.