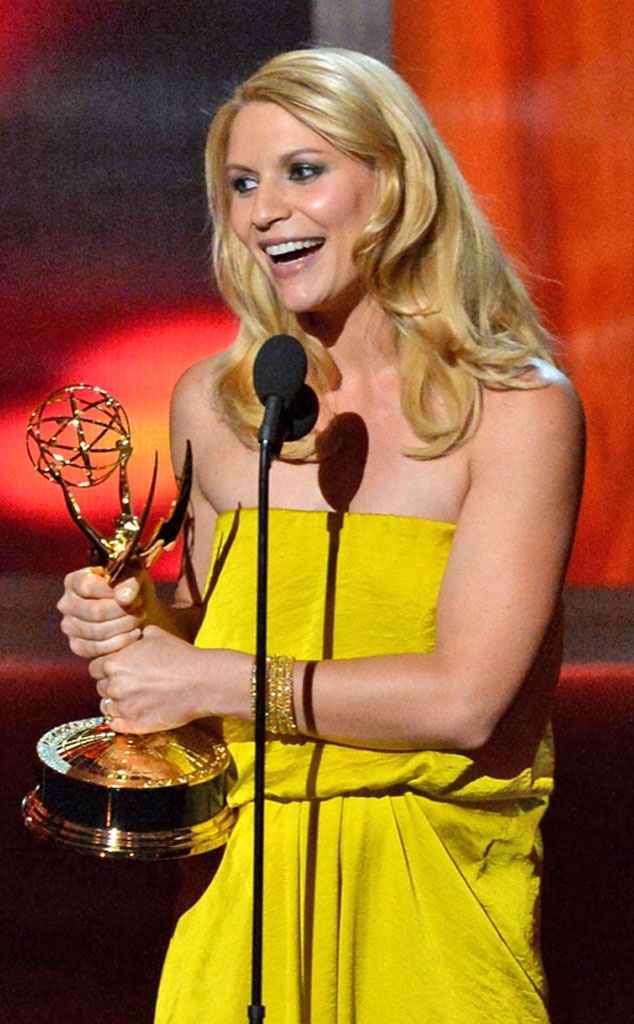 Lester Cohen/WireImage
Like Claire Danes' bipolar CIA agent, we sensed there was an imminent threat at tonight's 64th Primetime Emmy Awards.
And, sure enough, Homeland blasted Mad Men out of the room, denying the AMC hit its fifth straight win for Outstanding Drama Series.
"I don't know when they're going to cut me off, but this is the biggest night of my career and I'm going to keep talking until they do," writer-producer Alex Gansa cracked, referring to the time constraints put on his, Howard Gordon and Gideon Raff's acceptance speech for Outstanding Writing for a Drama Series earlier in the evening.
Get the complete list of winners
HBO, despite the onslaught from AMC, ABC, Showtime, PBS and FX, couldn't help but be the night's biggest winner with six Emmys, while ABC was second with five wins, including Modern Family's third consecutive Emmy for Outstanding Comedy Series. Showtime (a first-time winner in the top drama category) was next with four wins.
"Oh, did you guys want to stay another hour?" host Jimmy Kimmel cracked when time ran out on the producers of Modern Family as they accepted the last award of the night.
Homeland's wealth extended to the top acting prizes, with Danes following her Golden Globe triumph with her first Emmy for lead in a drama series and Damian Lewis winning his first ever Emmy.
"I'm Damian Lewis. I'm one of those troublesome Brits, apologies," the sinister-on-TV, super-charming-in-real-life thesp began, reminding us what Anglophiles we are when it comes to acceptance speeches. "I don't really believe in judging art, but I thought I'd show up just in case." 
Kevin Winter/Getty Images
In an acceptance-speech highlight, Louis-Dreyfus started off by thanking NBC and Parks and Recreation before a quick cut to Amy Poehler showed that the two had supposedly swapped words of gratitude. Poehler to the rescue as Louis-Dreyfus' fellow nominee ran up to the stage to give her the right speech.
Meanwhile, Jon Cryer is celebrating Charlie Sheen's departure from Two and a Half Men all over again: A previous champ in the supporting category for playing neurotic, unlucky-in-everything single dad Alan Harper, Cryer dipped his foot in the Lead Actor in a Comedy water for the first time and swam away with a win.
The Best Supporting Actor and Actress in a Comedy categories once again belonged to Modern Family, with Eric Stonestreet winning his second statue in three years, and he was joined on the flip side by repeat winner Julie Bowen. 
"I wouldn't be standing here without Jesse Tyler Ferguson. There is no Cam without Mitch," said Stonestreet, who previously won in 2010. And, in a nod to the social media universe: "I never knew I'd be on TV as a gay man, but I love the pictures of hairy chests you guys are sending me. Thank you for those."
Bowen called her second consecutive Emmy an "embarrassment of riches" and then credited "nipple covers" at least four times.
Straight-faced funnyman Louis C.K. was a double winner in the writing department, for his FX sitcom Louie and in the variety, musical, or comedy special category for his stand-up special Louis C.K. Live at the Beacon Theater.
Kevin Winter/Getty Images
"I wanted another one, so, that's nice," the two-timer said on his second trip to the podium.
Jon Stewart just barely escaped the pants-grabbing clutches of competitors Jimmy Fallon and Stephen Colbert to make it to the stage to accept The Daily Show's 10th consecutive Emmy for Outstanding Variety, Music or Comedy Special. 
"I'm not in the kind of shape I should be in to do a bit with Jimmy Fallon, who's in very good shape...son of a bitch!" Stewart breathed heavily. The Daily Show host was also first (well, presenter Ricky Gervais and his "not again" crack was technically first) to poke fun at his show's success.
"Years from now, when the earth is just a burning husk and aliens visit, they will find a box of these," he said, indicating his Emmy, "and they will know just how predictable these f--king things have become."
"I saw him throw his Emmy out into the garbage—something to remember when voting next year," Kimmel, who kept things moving at a brisk pace while picking up funny-steam himself, helpfully pointed out later in the evening.
Speaking of streaks, The Amazing Race won its ninth Emmy in 10 tries for Best Reality Competition Show. 
The win for CBS brought the broadcast network's two-night Emmy total (Primetime and Creative Arts) to 16, second only to HBO's 23. PBS was next with 12 and then ABC with nine. Showtime and Discovery Channel tied for fifth place, with six Emmys apiece, the latter's all in technical categories.
Getting serious now, Breaking Bad's Aaron Paul won Best Supporting Actor in a Drama again for playing Bryan Cranston's increasingly troubled and seemingly doomed partner in the meth trade.
"I truly didn't even attempt to prepare a speech...Vince Gilligan and the rest of the writers, thank you so much for not killing me off—that was the plan!" he exclaimed, referring to Plan A, which was to dispatch Jesse at the end of season one. 
Downton Abbey dowager Maggie Smith wasn't in the house, but she still won her second consecutive Emmy for supporting actress, this year accompanying the ITV-by-way-of-PBS-Masterpiece hit on its journey from miniseries to drama series.
The strange case of American Horror Story in the miniseries/movie category—because Ryan Murphy, FX & Co. offered it up as an "anthology"—resulted in Jessica Lange's expected win for supporting actress, which after tonight can safely be renamed Best Supporting Scene Chewer in a Miniseries or Movie. 
But the combining of miniseries and movie into one field may have worked against AHS, because Lange's win brought its total to only two (one technical) out of a Mad Men-tying 17 nominations. (Then again, Mad Men didn't win at all tonight despite having an extraordinary season, so...good job, AHS!)
Game Change, HBO's movie about the 2008 McCain-Palin ticket, won the Outstanding Miniseries or Movie Emmy, Jay Roach won for directing, Danny Strong won for writing and Julianne Moore won Lead Actress in a Miniseries or Movie.
"I feel so validated because Sarah Palin gave me a big thumbs-down!" said an exuberant Moore.
Kevin Costner won Lead Actor in a Miniseries or Movie for being the "Devil" Anse Hatfield half of Hatfields & McCoys and Tom Berenger was welcomed back into the major leagues with a supporting actor win for playing Jim Vance in the History hit.
Ron Howard kicked off the in memoriam segment with a tribute to Andy Griffith, who died in July.
"Andy's legacy of excellence, accessibility and range puts him in the pantheon—but dang if he didn't make it look powerful easy as he was goin' about it," the Oscar-winning director, who famously played Griffith's son Opie on the classic Andy Griffith Show, said, slipping into Sheriff Andy Taylor's twang.