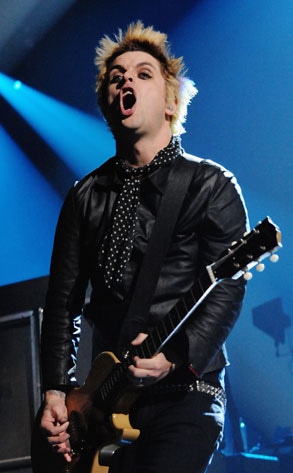 Jeff Kravitz/Getty Images
Billie Joe Armstrong has checked into rehab, just two days after his onstage meltdown at the iHeartRadio music festival Friday.
"Green Day's Billie Joe Armstrong is seeking treatment for substance abuse," his rep told E! News Sunday. "Green Day would like everyone to know that their set was not cut short by Clear Channel and to apologize to those they offended at the iHeartRadio Festival in Las Vegas. The band regretfully must postpone some of their upcoming promotional appearances."
Green Day has been making the rounds to promote its new album, ¡Uno!, due out Tuesday.
The 40-year-old rocker went on a profanity-laden rant on Friday, flipping off the camera and smashing his guitar after the band's set was supposedly cut short to give more performance time to Usher and Rihanna.
Upon noticing a one-minute warning sign in the back of the arena, Armstrong stopped singing. "You've gotta be f--king kidding me! You're f--king kidding me. What the f--k! I'm not f--king Justin Bieber, you motherf--kers," he yelled. "I got one minute—one minute left."
The musician was previously hospitalized in Italy at the beginning of September for an undisclosed illness.
—Additional reporting by Marcus Mulick