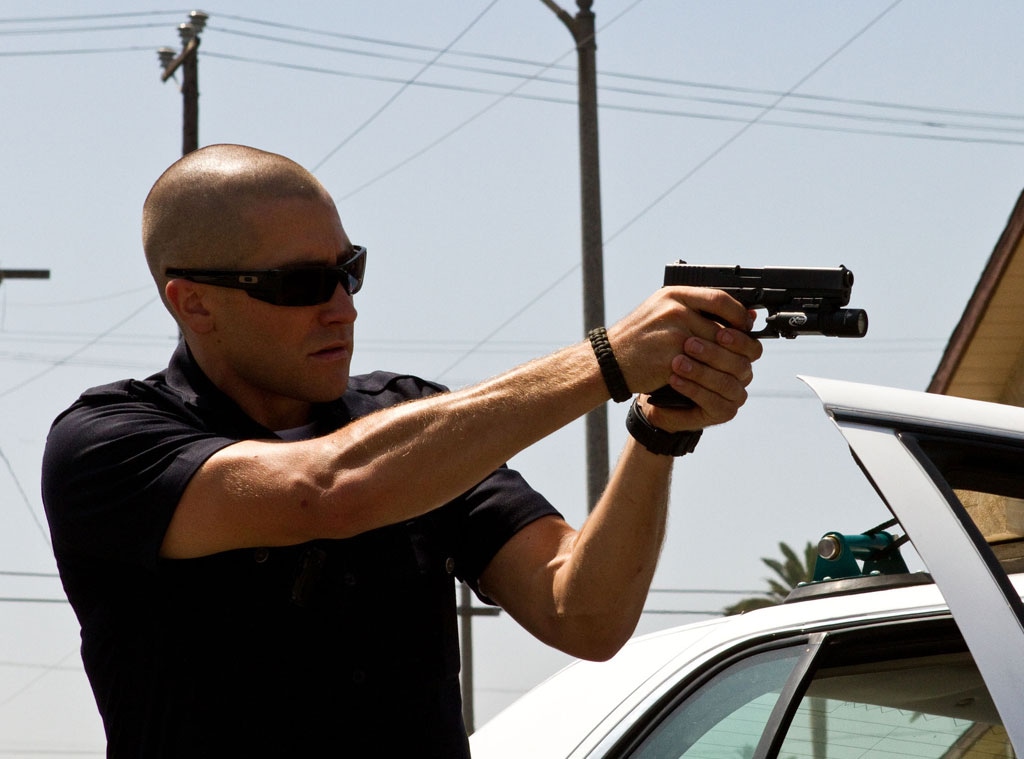 Scott Garfield
UPDATE: End of Watch got the win with $13.2 million to House at the End of Street's smaller-than-projected $12.3 million, per final numbers as compiled Monday by Hollywood.com. The results mean Jake Gyllenhaal has his first career No. 1 opener, while Jennifer Lawrence falls short of notching her second box-office victory of the year. 
__________
The box-office weekend's ultimate winner may not be determined until Monday, but the big loser seems pretty clear right now.
Sunday estimates show Jennifer Lawrence's House at the End of the Street and Jake Gyllenhaal's End of Watch in a tie, with both new releases scoring $13 million.
Dredd 3D, the critically acclaimed new take on Judge Dredd, flopped, opening with just $6.3 million.
Clint Eastwood's new entry, Trouble With the Curve, his first onscreen work since Gran Torino, or the Republican National Convention, depending on your perspective, came away with $12.7 million—a "decent" performance, as Exhibitor Relations' Jeff Bock put it.
No wide-release movie, however, really made a dent, extending Hollywood's extended post-Avengers slump.
Compared to the same weekend last year when three movies, the Lion King rerelease, Moneyball and Dolphin Tale, all passed or neared $20 million, not one movie this weekend came close to even $15 million.
If Monday's final numbers show House at the End of the Street still in first, then that'll mark Lawrence's second No. 1 film of the year, after The Hunger Games.
Like that survivalist blockbuster, House's box office was largely driven by young females.
End of Watch, meanwhile, could be the first No. 1 opener of Gyllenhaal's career.
Regardless of the final standings, House and End of Watch would seem to be both bottom-line winners, with each movie reputedly costing under $10 million.
Dredd 3D, by comparison, was reportedly budgeted at $45 million.
The film's dismal domestic performance (no overseas numbers were yet available) came even as the sci-fi/action flick improved, at least in critics' eyes, on the retelling of the comic character from the 1995 Sylvester Stallone version.
For what it's worth, the Stallone Dredd, titled Judge Dredd, was also a bomb domestically, although even it managed a bigger opening (with 1990s ticket prices, no less) than Dredd 3D.
Eastwood's Trouble With the Curve let down anyone who'd counted on a convention bounce, but actually performed all right for a baseball drama, not to mention a film with an eightysomething leading man. (That Eastwood had his biggest box-office hit at age 78, with Gran Torino, should be considered the exception, not the rule.)
Elsewhere, Paul Thomas Anderson's The Master went wide and remained a must-see, posting the fattest per-screen average in the Top 10.
Emma Watson's The Perks of Being a Wallflower had a great debut in limited release, grossing $244,000 at four theaters.
Diana Vreeland: The Eye Has to Travel, a documentary about the late fashion maven, also was little-big movie, taking in $64,238 from three theaters.
A whole bunch of movies got bounced from the standings, among them Will Ferrell's and Zack Galifianakis' The Campaign ($85 million overall domestically). 
Here's a complete look at the weekend's top movies, per Friday-Sunday domestic estimates as reported by the studios and Exhibitor Relations:
1. End of Watch, $13 million (tie)
1. House at the End of the Street, $13 million (tie)
3. Trouble With the Curve, $12.7 million
4. Finding Nemo, $9.4 million
5. Resident Evil: Retribution, $6.7 million
6. Dredd 3D, $6.3 million
7. The Master, $5 million
8. The Possession, $2.4 million
9. Lawless, $2.3 million
10. ParaNorman, $2.297 million
(Originally published at 10:38 a.m. on Sept. 23, 2012.)