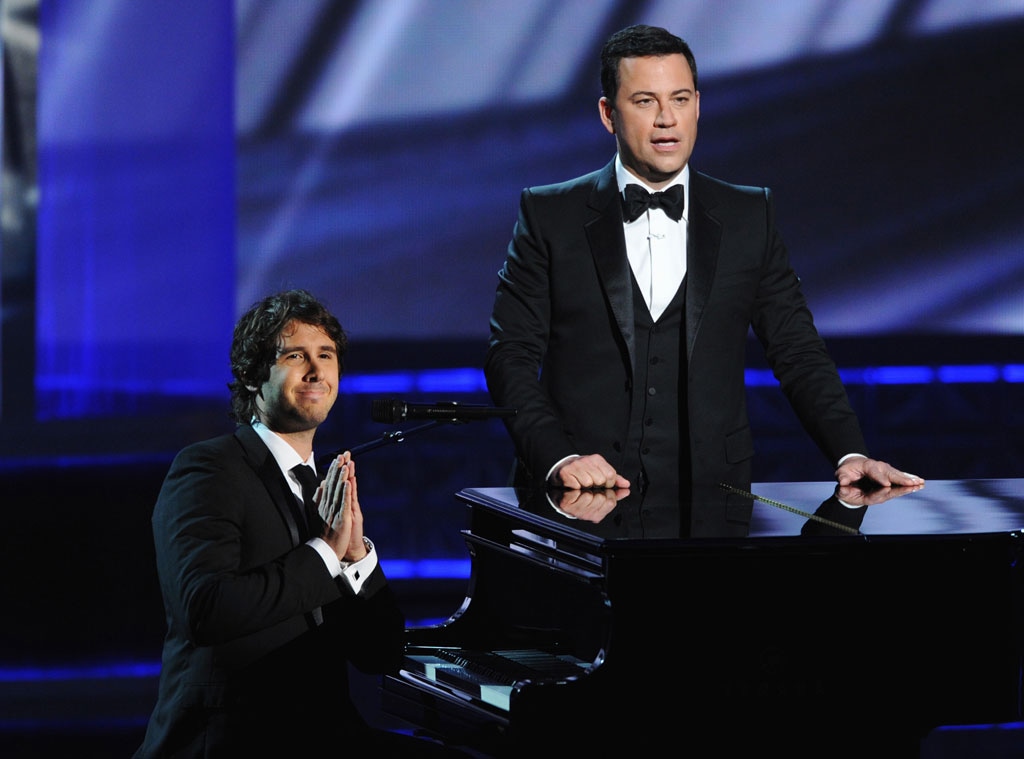 ABC/TODD WAWRYCHUK
Modern Family once again is the show to beat this year, so did it trounce the competition? And with all the dramz of HBO's Game of Thrones, Downton Abbey, Mad Men, Boardwalk Empire and more, was it possible for any good times to be had?
Read on for the best and worst of the Emmys.
It Begins—and the Show's Already in the Toilet: Literally. The opening featured Jimmy Kimmel and a ladies' room worth of talented women (and some men)—Ellen DeGeneres, Zooey Deschanel, Mindy Kaling, Christina Hendricks, E!'s own Ryan Seacrest and a naked, cake-eating Lena Dunham. And then the beat the host in the face. Clearly, cable TV is to blame.
Most Awkward: The first award goes to Modern Family's Eric Stonestreet, who gets this great award and the incredible opportunity to face the three other coworkers in his category that he bested to win the trophy. He's gonna deserve an award if he gets through that.
Most Shocking: Famously filthy Louis C.K. shocked the audience with a speech that included a bunch of gratuitous thank yous and a shout-out to his kids. Dirty.  
Worst Surprise: The lovely and talented Julie Bowen said a lot but her speech will mainly be remembered for her repeated use of the term "nipple covers."
Best Bit: Julia Louis Dreyfus began her win with a hug from Amy Poehler—and the text from Poehler's unneeded speech.
Least Amazing: The Amazing Race won again. Something tells us this category needs a game-changer.
The Joy of Seth: Family Guy's Seth MacFarlane offered a dose of reality when he appeared to have completely missed his mark...Or was this bit of reality scripted?
Best Indicator This Celebration of TV Is Not Itself Great TV: Those little teases that said, "[Some Other TV Star] Will Be on in 5 Minutes!" They might as well had just said, "Keep watching—it's going to get better! Really!"
Breaking Big: Aaron Paul was a surprise win (to us, anyway), but we're so glad we got to hear him thank his boss for not killing him off. We tell our boss that same thing all the time.
Least Expected Words of the Night: Tracy Morgan's request of Kimmel, "Hold my nunchuks."
Kevin Winter/Getty Images
Worst Omen for the New Season: Homeland's writing team ran out of time before they could finish their speech and say that really important thing they needed to say. We shudder to think how they'll turn this nail-biter into intense drama.
Best Reaction Shots: As fans of Damian Lewis since Band of Brothers, we were happy to see him win for Homeland, but the unexpected dramatic delight was the expressions on the faces of the talented men who weren't up on the stage. What did those looks reveal?
Biggest Upset: The Daily Show with Jon Stewart won another Emmy, which is great, but seriously The Colbert Report got robbed again. Even Stewart said (and got bleeped) saying "just how predictable these f--king things can be." Always the truth teller, aren't you Stewart?
OK, Bigger: Was it bizarre that the 0-for-17 Mad Men got shut down so hard? Not even some love for "Zou bisou bisou"?
Worst Surprise: The director of the Emmys won an Emmy.
Kevin Winter/Getty Images
Unexpected Bit of Political News: Based on Game Change's Emmy wins, Hollywood really seems to love Sarah Palin.
Best Reality TV: Considering all its feuding, sniping and excessive drinking, we're pretty sure that someone is putting together a reality series called The Real Hatfields of West Virginia.
Worst Edit: Right as Modern Family's Steven Levitan was wrapping up his speech with an ode to family, he got cut off.  And yet there was time for a pantless Kimmel. Oh, Hollywood.
Most Belated Realization: You really are going to have to start watching Modern Family and Homeland now, right?
Best Question: Did you like Kimmel—or think his oddball humor was too odd?