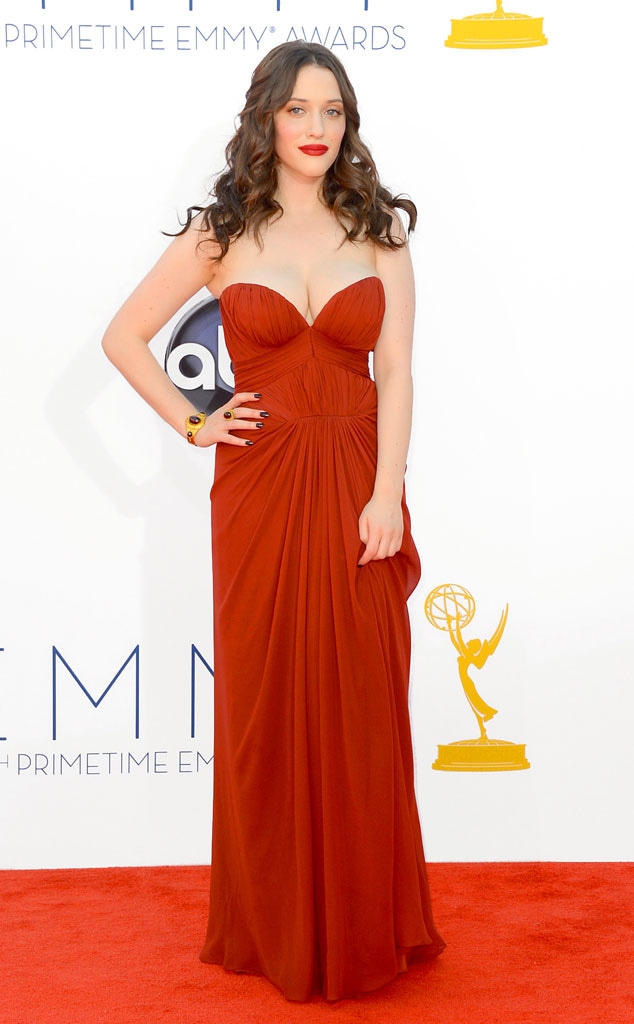 Frazer Harrison/Getty Images
It's that time again!
Some of TV's hugest and classiest stars are chatting it up with Ryan Seacrest and Giuliana Rancic on the scorching hot (literally!) red carpet as they arrive at the Nokia Theatre in downtown Los Angeles for the 64th Primetime Emmy Awards.
And, as usual, they have given us some great words of wisdom to sit back and enjoy.
"Very nervous. If I stand up too straight, there's a possibility. So if I hunch, that's why. It's not because I have terrible posture, it's from fear of things coming out."
—Kat Dennings on the possibility of suffering a wardrobe malfunction
"I'm an easy girl."
—Jena Malone on choosing an Emmy dress
"I have to shave his neck and do the slow fade down his back so it looks natural."
—Leslie Mann on getting her hubby Judd Apatow ready for the awards
"So if I stay out all night should I just come in my gown?"
—Padma Lakshmi on guest cohosting Fashion Police Monday
"I'm just happy to be alive, I just gotta be honest—Amanda Bynes gave me a ride over. I am just happy to be here."
—Jimmy Fallon poking fun at the star's recent run-ins with the law
"Yeah, that's not a problem, that's not the issue. It's the issue of whether they wanna see that much intensity onscreen, because that's what I plan to bring."
—New Girl's Max Greenfield on whether or not he would be willing to do a full frontal to play Christian Grey for Fifty Shades of Grey
"It involves sex and sharp objects."
—Lena Dunham on being snapped on the set of Girls without pants on
"I'm talkin' about when the babies are so young, they gotta use twins, because they can't work long enough. And it'll be really interesting because you could be like, 'Well, which baby was doing those scenes? Because those scenes were great.' And then one twin wouldn't get nominated and there'd be so much drama."
—Aziz Ansari on qualifications for his suggestion on new Emmy category: Outstanding Baby in a Drama or Miniseries
"He played, if I may use this term on television, a sex idiot. He was good at it."
—Tina Fey on Ryan Lochte's role on an upcoming 30 Rock appearance
Watch:
2012 Emmys: Sofia Vergara
"I bought tickets for them, do you think I'm going to smuggle them?"
—Sofia Vergara on bringing numerous family members to the Emmys
"It is a marathon, not a sprint—a lot of vegetables, a lot of cross training, a lot of oxygenating my blood. Steroids, basically. I take comedy steroids."
—Amy Poehler on shooting 22 episodes for new season of Parks and Recreation
"I just had such a good time on The Good Wife and on Curb and on Rescue Me, and a couple other things I did, and I just thought, why just sit around and get fat and old? Why don't I get back to work?"
—Michael J. Fox on his decision to return to TV
"I was the most hated man in America for a while. You usually have to kill a lot of people to get that many column inches. But you stuck by me, and that's what matters."
—Ricky Gervais to Seacrest on hosting The Golden Globes
"I don't know, I think it's my child-bearing hips."
—Stephen Colbert on how he got No. 69 on Maxim's Hot 100 list of women