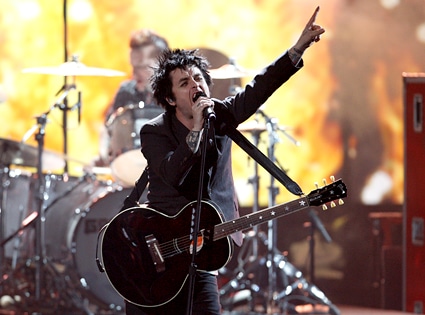 Craig Sjodin/ABC
Justin Bieber may not have been in attendance at the IHeartRadio music fest this weekend, but he still caught the wrath of one particularly disgruntled rocker.
Green Day frontman Billie Joe Armstrong threw the "Baby" crooner's name into the mix when he went on a profanity-laden rant onstage after the band's set at the Las Vegas fest was cut short to give Usher and Rihanna more time to perform.
Upon noticing a one-minute warning sign in the back of the arena, the musician went totally off, stopping halfway through the band's performance of "Basket Case," to flip off the camera and smash his guitar, among other things.
"Oh, f--k this s--t. I'm gonna play a f--king new song….Give me a f--king break," yelled Armstrong, whose band's new album, ¡Uno!, is due out Tuesday.
"One minute left. One minute f--king left. You're gonna give me one f--king minute? Look at that f--king sign right there — one minute. Let me f--king tell you something, let me tell you something, I've been around since f--king 198-f-cking-8. And you're gonna give me one f--king minute? You've gotta be f--king kidding me! You're f--king kidding me. What the f--k! I'm not f--king Justin Bieber, you motherf--kers…I got one minute—one minute left. Oh, now I got nothing left. Let me show you what one f--king minute f--king means. One minute. God f--king love you all. We'll be back."
Something tells us they may not be back at this music fest though. 
But backstage after venting, Armstrong seemed to be singing a different tune, or at least taking it in stride.
A source tells E! News, "Billy was backstage laughing and the fans loved it. A very rock 'n' roll moment."
Green Day's new album, ¡Uno!, is due out Tuesday.