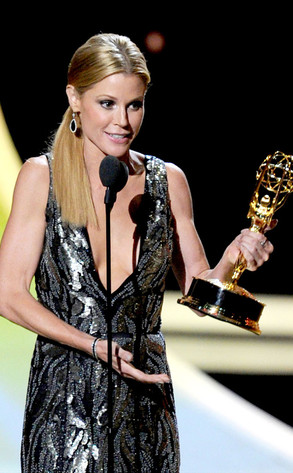 Kevin Winter/Getty Images
Uh-oh! Modern Family funny lady Julie Bowen has already had an Emmys dress fashion emergency.
"I busted the zipper already once," she told us at the Audi and Derek Lam party. "I was like, 'Reinforce it!'"
Bowen is determined to wear her Monique Lhuillier gown tomorrow because it's a "bright color" and it makes her look "curvy" like a certain someone. "[I picked it] because it made me look like Sofia Vergara's distant, distant cousin," Bowen said. "It has a corset inside that honestly might fold my ribs on top of each other and give me a waist. I don't care. How will I sit down? We haven't addressed that. Don't care."