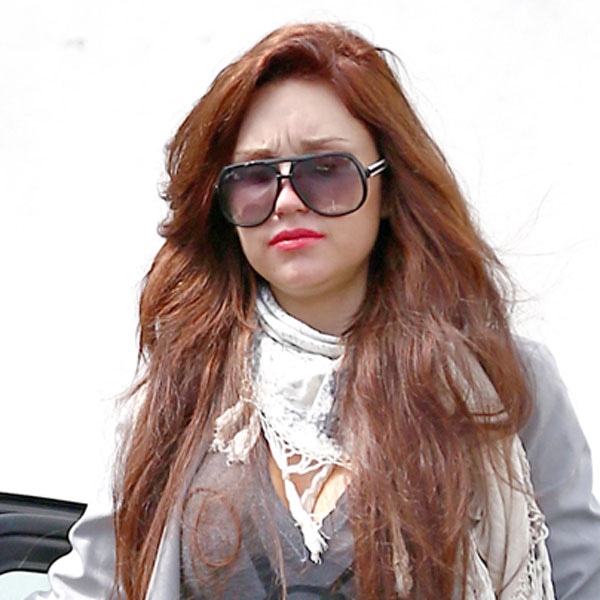 AKM-GSI
Amanda Bynes had it coming—but not for the reasons you might have suspected.
The beleaguered starlet had her driver's license suspended by the California DMV on Aug. 25—but not because of her literal run-ins with upward of five cars over the past year or because of her arrest on suspicion of DUI.
E! News has exclusively learned that unpaid tickets and multiple failures to show up for court to answer for them are what led to having her license pulled.
According to Los Angeles County public records obtained by E! News, Bynes has had numerous encounters over the past seven months with traffic cops.
She has been ticketed six times since March 7, violations that don't include her April 6 DUI bust, the two alleged hit-and-runs she's charged with and the two citations she received on Sept. 16 for driving after her license was suspended. (Earlier today, she was formally charged with two counts of knowingly driving with a suspended license. She's due in court Oct. 29 on the DUI and hit-and-run charges.)
The incident that seemingly got the ball rolling on her now infamous driving record was on March 7, when, per court records, she was pulled over on Sunset Boulevard for using her cell phone, albeit by holding it 1 1/2 feet away from her face.
The officer noted that she was "argumentative on sidewalk. Bynes ended up skipping the payment due date of April 23 and incurring additional penalties.
"Her original fine was about $130 but she ended up paying $573 in fines," criminal defense attorney Troy Slaten, who is not associated with Bynes, tells E! News.
Bynes was then tagged with two red-light camera violations on April 4 in West Hollywood and both tickets, now amounting to $779 each, are still listed as outstanding in court records. (Slaten tells us, meanwhile, that because those tickets were sent in the mail rather than being the kind a driver signs in the presence of a traffic cop, they would not have contributed to her license suspension.)
Bynes' current attorney didn't immediately return a request for comment.
On April 12, Bynes was pulled over for speeding, with the officer who pulled her over estimating she was going about 85 miles per hour on L.A.'s 101 Freeway, on which the speed limit is 65 mph.
A hold was placed on her license when she failed to take action on the ticket (pay or request a court date) by June 1 and the ticket—now with a $1,073 fine attached—is still listed as outstanding.
"Holds become a suspension if you don't take care of them in a certain amount of time," says Slaten. "The reason the court does that is to get the person's attention to get them into court."
Alas, another ticket issued to Bynes on May 16 in the San Fernando Valley now boasts a $1,798 fee, according to court records.
"Bynes has two tickets out of the Chatsworth court and because they are unresolved, they are holding her license," explains Slaten, referring to the May 16 and April 12 incidents.
"It takes two and a half weeks from a missed court date for the holds to go in place. Once the hold is in place it takes around another month for the DMV to suspend."
"It seems like she is not taking care of this and she is not letting anyone else take care of this either," says Slaten. "If she was smart, she would hire an experienced traffic lawyer to handle these and these could all be cleared up in a day."
Bynes was pulled over yet again on May 17 for failing to signal while making a left-hand turn in Hollywood and then was cited for lacking proof of insurance. A court date was set for July 19, but Bynes coughed up $1,113 in fines rather than go to court to present an insurance document.
Live and...learn?