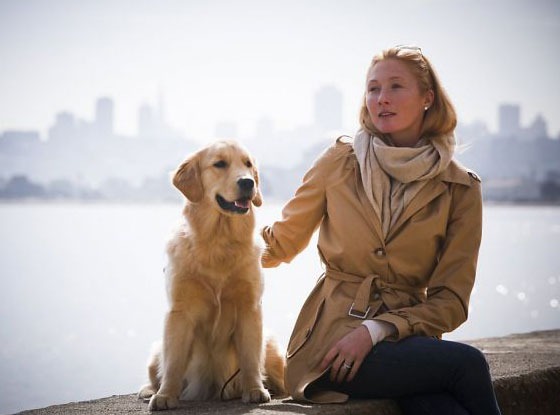 Maggie Rizer's story is about as sad as it gets for a dog owner.
The model is mourning her Golden Retriever Beatrice after the pooch passed away while riding in the cargo hold of a flight to San Francisco after Rizer's vacation with her husband and son in upstate New York.
And Rizer blames "the negligence of United Airlines" for Bea's death, according to a post on her Bea Makes Three blog, which bluntly alleges that Bea "was killed" by the airline.
Rizer states that 2-year-old Bea was in perfect health and that they had purchased special kennels and provisions for her and their other dog, Albert, for the cross-country flight.
But when they arrived in San Francisco, she writes, a cargo worker bluntly told them that one of the dogs had died. They were then informed, when they asked for their dog's body, that Bea's remains had already been transported from the airport to a local vet for necropsy (an animal autopsy).
"Whatever thread of trust remained between us and United broke and we then insisted that she be returned to us for our own autopsy...Over the next two hours the supervisor's lie unraveled as it became clear that Bea was right behind a closed door the whole time and he had been discussing how to handle the potential liability with his boss who had left and sticking to the divert and stall tactic that they had been taught," Rizer charges.
United Airlines, meanwhile, said in a statement to E! News that they "understand that the loss of a beloved pet is difficult" and express their condolences to Rizer and her family.
"After careful review," United continued, "we found there were no mechanical or operational issues with Bea's flight and also determined she was in a temperature-controlled environment for her entire journey. We would like to finalize the review but are unable until we receive a copy of the necropsy."
Rizer writes that the necropsy performed by their longtime veterinarian determined that Bea died of heatstroke but they couldn't determine "exactly what happened" on the plane.
E! has learned that the $1,800 that Rizer's family paid to transport both pets is being refunded and United also covered the cost of the necropsy.
—Reporting by Holly Passalaqua