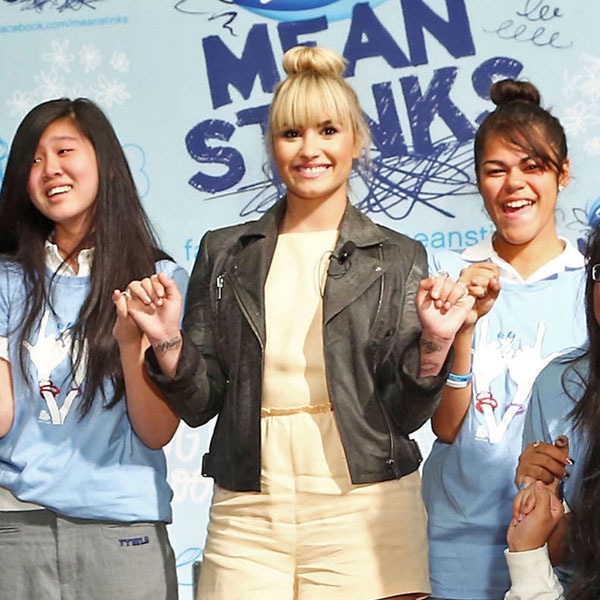 Sara Jaye Weiss /StartraksPhoto.com
Demi Lovato has never been shy about her mission to help end bullying, and now The X Factor babe is taking her goal one step further.
The "Give Your Heart a Break" singer has officially announced that she is the new ambassador for Secret deodorant's "Mean Stinks" anti-bullying campaign, which encourages girls to "gang up for good."
"So excited to be Secret's new @meanstinks ambassador!!! #gangupforgood," Demi tweeted this morning, clearly thrilled over her involvement with the project.
And it's no surprise Demi was so eager to help, as she too experienced extreme bullying as a child:
"I had a really tough time when I was in middle school," the 20-year-old star tells People magazine. "People would write 'hate petitions' [about me] and send them around to be signed. They'd have CD-bashing parties of my demos. They'd come to my house, stand across the street and yell things. It was a very emotional time for me, and all I wanted to do was get away."
She continues, explaining how her experiences with bullying contributed to her rehab stint years nearly two years ago, where she sought treatment for an eating disorder and cutting.
Luckily, Lovato has moved past those dark times, and she now uses her experiences to help others (remember that touching moment with the bullying victim on X Factor?) and she began her work with the "Mean Stinks" campaign today.
Sara Jaye Weiss /StartraksPhoto.com
Thursday, the star surprised ninth-grade students at New York City's Young Women's Leadership School to talk about the campaign. The anti-bullying program asks girls to make a pledge for a "Drama Free School Year" by making a pinky swear promise to be kind, symbolized by wearing blue polish on their pinky fingers.
"I'll definitely be wearing [the nail polish] starting soon," Lovato said at the event. "It's a conversation starter: 'Hey, why is your pinky blue?' 'This is a pinky promise that I'm not going to bully people, that me and my friends are ganging up for good.'"
We'll give it two weeks until painting your pinkies blue is a top fashion trend.
Go Dem!