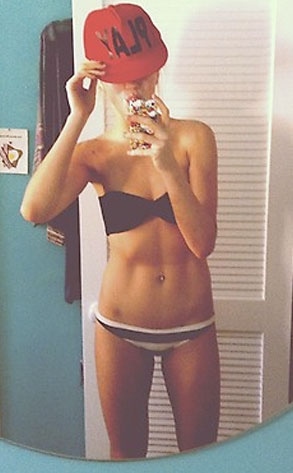 Instagram
Well, someone's all grown up. Almost.
Ireland Baldwin, the 16-year-old daughter of Alec Baldwin and ex-wife Kim Basinger, is quite the avid tweeter—and now, she has graduated into the celeb-favored world of bikini twitpics.
"I stoleeeee your snapback HA #minenow #lamemirrorpic #bahaha," she tweeted Sunday, obviously using some sort of indecipherable teenager code to keep her inside joke among friends, along with a photo of her in a black strapless bikini top and striped bottoms.
The reveal factor of the teeny-weeny bikini doesn't come as that much of a surprise—this is the confident-sounding girl who tweeted later that she was having sushi with her mom, followed by, "Sea Urchin sashimi is sushi sex explosion in your mouth."
Not afraid to say anything, that one. Wonder where she gets it from.
And, in case the bikini pic seemed like the start of something a little more racy, Ireland was sure to set another Twitter user straight when she was asked if she would ever consider posing nude.
"'@NC_Nudist:@IrelandBBaldwin Any chance - when you turn 18 - that you'll do a magazine like Playboy?'" inquired the curious tweeter.
"ermmmm no. Never," Ireland replied.
That should have mom and dad breathing a little easier.