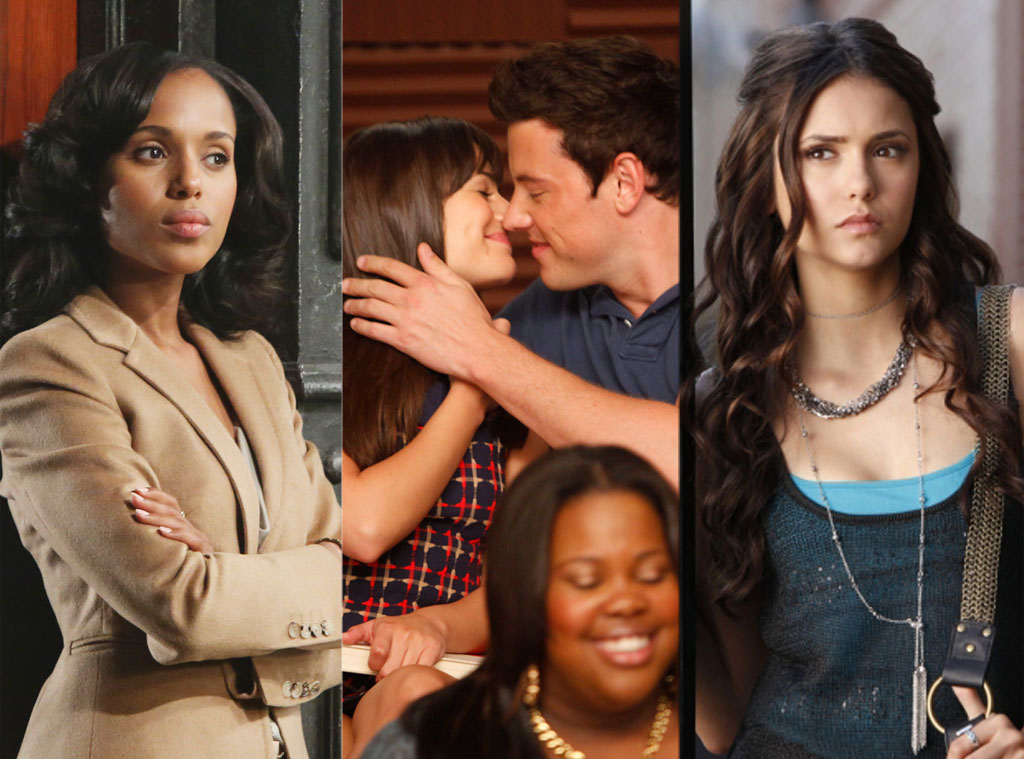 ABC, CW, FOX
Are there any fans of the Glee couple Finchel out there? No? We thought there would be more of you…
Kidding! Of course we know you're out there and we hear your request for scoop on Finn and Rachel, so we went right to the source: Lea Michele. And we've also got some details on the new season of The Vampire Diaries to tide you over until the season-four premiere. All that, plus scoop on Scandal, Revenge, Parks and Recreation and more in today's Spoiler Chat.
@hudsonberries: finchel scoop please!!!!!!!!!!
When we asked Lea Michele at the Nylon magazine and Sony X headphones event for the mag's annual TV issue about Rachel's reunion with Finn in an upcoming episode, she told us that it might not go the way some Finchel fans would like. "It's really interesting," she says. "Honestly, it's a mix of a lot of emotions. I think that a lot has gone down. So it's not just one thing." Who else thinks that Brody might be one of those things they talk about in the episode? For the record, Michele told us she thinks Brody and Rachel make "a really cool pair."
@SmallTom_ I need a spoiler about Mercedes pleaaaaaaaaaaaaaaaaaaaaaaaaaaaase !!! #Glee
We think you might have added some letters to your please, but we will answer your question regardless of your misspelling. Michele told us that Glee fans don't have to book a trip to Los Angeles to see Mercedes, she'll be exactly where we left her! "I'll say that Rachel and Kurt go back Ohio and Amber [Riley] is there," she teases. "I can't say why, but we go back and visit and she's there helping with something."
@itsmrswesley: Will Stefan be putting a ring on Elena's finger?
He will be entirely too busy dealing with this situation to even think about locking down Elena. Or, to put it a better way, here is Kat Graham: "I think this is one of our biggest seasons so far. You're going to see an interesting shift with Elena in the first few episodes," she tells us. As for her own character? "Bonnie is going to meet somebody who is going to have a huge impact on her future," Graham teases.
 
@Tyler_Hayes: what drama is Emily's mom going to be stirring up on Revenge?
Maybe the kind of drama that comes with death! (Dun-dun-dun!) Ashley Madekwe tells us that although the season premiere is going to be crazy, it won't involve anyone dying. That's for later in the season! "I don't think there are any deaths [in the first episode]. Not yet," she says. "Someone will die, of course they will."
Randy: Keep it comin' with the Parks and Rec scoop!
The title of episode seven might be a bit foreboding, or it could mean two gals are about to Jell-O wrestle: "Leslie vs. April." Why would those two be fighting? Speculation monsters, come on out and play down in the comments!
@kbenko6: I recently watched Scandal now I'm addicted! Any scoop on season two?!
How about we let the ridiculously gorgeous Kerry Washington answer this question? "In the very first episode, you will find out who Quinn Perkins is," she tells us. "But typical Scandal style, you'll also leave with about four more questions." We only have one question: what's going on with Olivia and the president?! "At the end of the first season, Olivia really is trying to let go of her relationship with Fitz and not interact at all," Washington says. "But there is a strong pull there, so we'll see." We won't see soon enough! The premiere (Sept. 27) is still too far away.
Leslie B.: Can I get just a bit more scoop on the Halloween episode of Pretty Little Liars?
It's funny you should say "bit," because Lucy Hale described the episode in just three words. Sort of. "OK, if I can give you three words that will describe the Halloween episode: Adam Lambert, which is two words," she laughs to us. "So technically I have one more word to fill. OK: Adam Lambert, a box and red lips." Crack that code, PLL fans!
Want your TV questions answered in our next Spoiler Chat? Email them to tvdiva@eonline.com or tweet at @KristinDSantos!
—Additional reporting by Jenna Mullins and John Boone