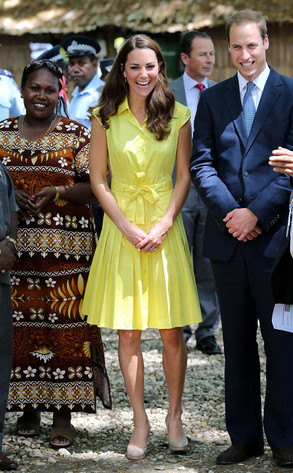 Chris Jackson/Getty Images
Prince William and Kate Middleton are obviously not happy about certain tabloids continuing to publish topless photos of the duchess.
But that doesn't mean they're going to sulk! The royal couple has continued on with their tour of Southeast Asia, and Monday night they're off-duty in the Solomon Islands. Meaning? Kate and Wills will celebrate their "second honeymoon" there, enjoying some well-deserved time out of the public eye.
Kate's late mother-in-law, Princess Diana, had a tumultuous and ultimately tragic relationship with the paparazzi. Lana Marks, the handbag designer and one of Diana's close friends, told E! News Diana "would be absolutely devastated by what William and Kate are having to deal with at the moment. But she would be extremely proud of how William is handling things and doing everything in his power to protect his wife and file this lawsuit. She would want him to take a stand against this." (St. James's Palace confirmed last week that the royal couple filed a lawsuit against the publishers of Closer Magazine France for the "grotesque" invasion of privacy.)