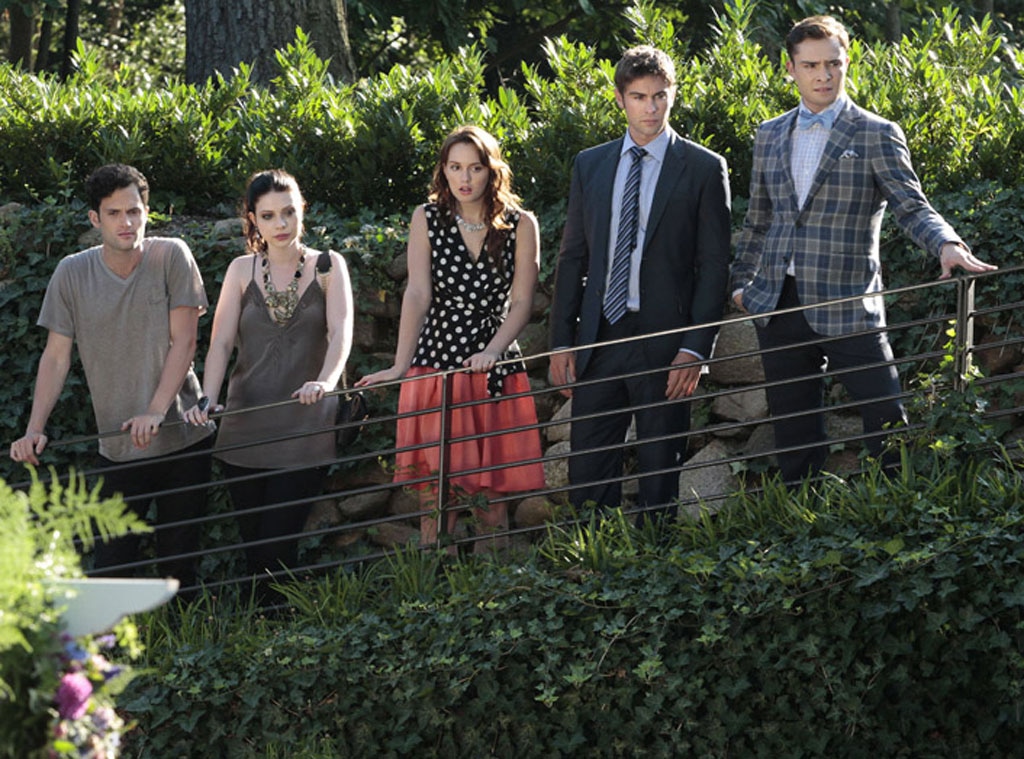 Giovanni Rufino/The CW
Six seasons. Five friends. One show.
We were just sophomores in college when Gossip Girl debuted and inserted us into the lives of Manhattan's elite: reformed party girl Serena (Blake Lively), her straitlaced queen-bee best friend Blair (Leighton Meester), the "perfect boyfriend" Nate (Chace Crawford), bad-boy Chuck (Ed Westwick) and outsider Dan (Penn Badgley).
The CW hit, which became a huge pop culture sensation, is coming to an end this fall, airing its final 10 episodes. In between sniffs and sobs, we compiled a rundown of everything you need to know about the Upper East Side before the final season premieres and what you can expect from season six...
WHAT WE LEARNED
Blair Is All In: Blair's diary exposes one of her biggest fears: Can she ever love Dan, or anyone really, as much as she loves Chuck? We learn the answer by episode's end: No. When she goes to tell him that he's the one, Chuck spurns her because he's just lost control of his company to his back-from-the dead father, Bart (Robert John Burke). Still, Blair tracks him down to Monte Carlo, where she tells him she's all in. Aww!
Because Blair chose Chuck (and didn't even bother to tell Dan in person, ouch!), Dan decides it's time to drop the nice-guy act and finally go after him. It's like revenge of the nerds, except if the nerd was part of the inner circle for five years but pretended to be above it. His partner in crime? Georgina (Michelle Trachtenberg)!
Serena's Off the Rails: After losing Dan to Blair and basically having no goals in life, it's not hard to understand why Serena is feeling pretty lost. What is hard to understand is how far she went to destroy Blair's happiness: manipulating Dan into thinking it was over between them (well, it was) and recording their hookup. The last we see of her in season five, she's on a train taking drugs from a random dude and letting him fondle her. Woe is S, y'all!
Rufly Is No More: In what we considered one of the show's most shocking twists, Lily (Kelly Rutherford) ended things with Rufus (Matthew Settle)—the two have been together since season two—and decided to get back together with her not-so-dead husband Bart, aka the emotionless robot.
Nate…: exists? Just kidding, he got a tape that apparently drops a hint as to who Gossip Girl really is.
WHAT LIES AHEAD
Chair Is Endgame: Um, duh? The duo will share a supersexy scene in a hotel room in Monte Carlo but will make a pact to focus on their individual needs first, so when they do officially get back together, nothing will stand in their way. However, we're hearing Chuck's ongoing battle with his father will affect his relationships with Blair and Lily.
Dan Gets Dark: No, Lonely Boy won't be changing his vengeance tune from the finale in the beginning of season six. "He's actually going down a dark path finally, but in a real way," Penn Badgley tells us. "I mean, I think he's dabbled in the dark before, but you're like, 'Dude, that's not that dark. You don't know what dark is.' It seems like he might be going there a little bit, but it's good." So just how dark is Dan going in this final season? While he couldn't reveal too much, Penn teases, "I think he might be betraying people in a profound way that he's never had the balls to or the lack of heart to."
Back to Basics: At its core, Gossip Girl is really all about the friendship between Blair and Serena, even if it was ripped apart at the end of season five. We're hearing that the producers really want to bring their friendship back "front and center, just like in season one." So expect a lot of juicy S&B drama in the show's home stretch.