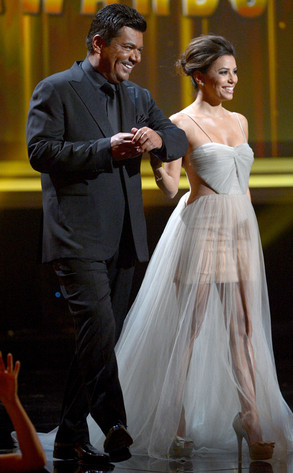 Kevin Winter/Getty Images for NCLR
The stars were sweating on the red carpet in Pasadena, Calif., as they braved nearly 100-degree weather to attend the 2012 NCLR ALMA Awards Sunday at the Pasadena Civic Auditorium.
Eva Longoria and George Lopez hosted the star-studded affair and the longtime friends brought their funny spirit the to the awards which honored outstanding Latino artistic achievements in television, film and music.
Jake Gyllenhaal, Michael Peña, Zoe Saldana, America Ferrera, Christina Aguilera and Ryan Lochte were just a few of the many celebs who came out in support of the Latino community. Nicole Richie, Ana Ortiz, Dania Ramirez, Rodrigo Santoro and Wilmer Valderamma were also in attendance to celebrate the achievements of top Latino performers.