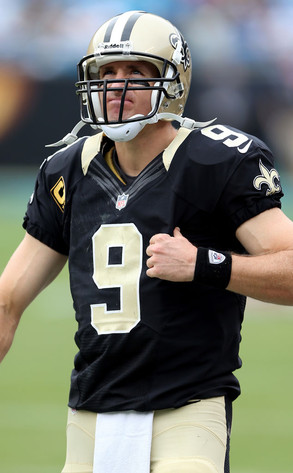 Streeter Lecka/Getty Images
Flop Watch. Now we know the next football player Taylor Kitsch can play onscreen: former NFL MVP Drew Brees. Once a small-screen football icon, Kitsch has helmed some big time flops since his playing days on Friday Night Lights, and the big story of week two's NFL action was the John Carter/Battleship of a season that Drew Brees and the Saints may be having.
There's always one NFL team whose players and fans start the year dreaming of the Super Bowl and end up scheming for the No. 1 pick. After last week, 2012's candidates were the New York Giants, Green Bay Packers, Pittsburgh Steelers, Philadelphia Eagles and Saints, all losers of unexpected blowouts or, in the case of Philadelphia, survivors of a putrid effort that somehow beat hapless Cleveland. All of them but the Saints got big wins in week two. The Saints dropped to 0-2, which is especially bad news considering that the two teams they've lost to—the Washington Redskins last week and Carolina Panthers Sunday—are among the worst teams they play all year.
This isn't entirely unexpected. The Saints are playing without their head coach, Sean Payton, suspended for the team's bounty-for-injury scandal.