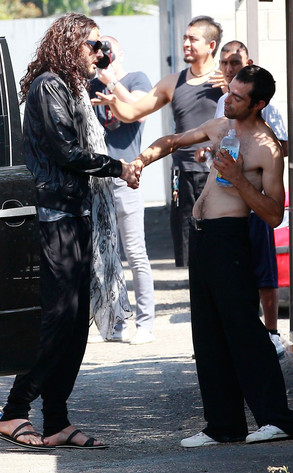 Bruja/Juan Sharma, PacificCoastNews.com
Russell Brand is paying it forward.
The funnyman, who's had his own well-documented struggles with substance abuse before cleaning up his act, came to the aid of a homeless man in Los Angeles yesterday.
Per the U.K.'s Daily Mail, the 37-year-old Brand was on his way out of yoga class, natch, when he spotted the unidentified individual in an alleyway. The comedian subsequently walked over, offered the man some water and engaged him in conversation. He also gave the shirtless fellow a white T-shirt to protect him from the hot sun.