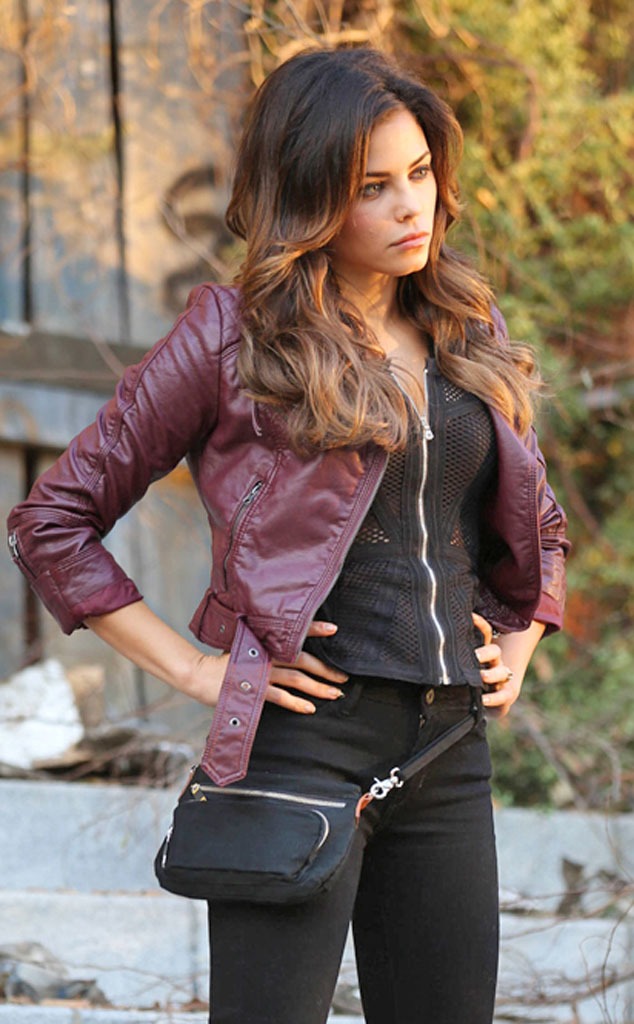 Michael Yarish/FXv
Jenna Dewan-Tatum has it going on.
Not only is she married to Magic Mike meat star Channing Tatum, but she plays Adam Levine's love interest on the new season of American Horror Story.
"I'm a very lucky lady, that's for sure," says Dewan-Tatum, 31.
She's careful not to reveal spoilers, but promises AHS fans won't be disappointed. "It's totally creepy," Dewan-Tatum said. "Everyone is so creepy."
We're assuming she and Levine (who makes his acting debut on the show) will share a steamy scene or two. "He is so much fun to work with," Dewan-Tatum said. "There is so much talent in that man, I can't even explain it. I don't know what I'm allowed to say, but I'm sure you can use your imagination."
What she can talk freely about is 10 Years, her new indie dramedy about a high school reunion costarring Channing, Rosario Dawson, Aubrey Plaza, Chris Pratt, Justin Long and one of our new favorites Ari Graynor.
The film (in theaters tomorrow) marks the first time Jenna and Channing have been in a movie together since their real-life romance began on the set of 2006's Step Up. "We always knew we wanted to work together again, but it was just about the right project," Dewan-Tatum said.
They don't dance in the film, but she said, "We definitely would like to do another movie together that we can dance in."
Fingers-crossed.
Also out tomorrow is Arbitrage, a drama thriller starring Richard Gere as a New York businessman whose lies threaten to destroy both his company and family.
Susan Sarandon plays Gere's wife with Brit Marling as their daughter and Tim Roth as a New York detective investigating the death of his French mistress.
The small film is already picking up awards season buzz, especially for Gere.
"One of the great luxuries of this film was that I did a month of rehearsals with the actors," director Nicholas Jarecki says. "Richard would come over to my apartment every day and we'd work through the script and then we'd bring all of the other people in. We'd do four days with Susan, Four days with Brit, two days with Tim."
And if the New York City scenery seems particularly real, it's because it is.
"I think we made as much use of the city as we could," Jarecki said. "We tried to pack it all in—the Grand Ballroom at the Pierre Hotel, Le Caprice restaurant, the Four Seasons restaurant, various mansions around the city. We shot all over Manhattan."