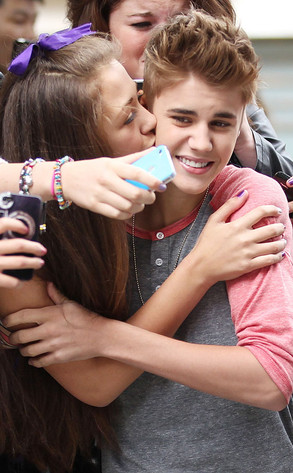 FlynetUK/FAMEFLYNET PICTURES
Justin Bieber loves his Beliebers, but sometimes fangirls can be a bit much.
One overzealous teenage fan grabbed onto the 18-year-old pop star Wednesday in London, forcefully planting a kiss on his cheek. And while homegirl was smiling and wearing a purple bow in her hair (Justin's favorite color!), the Biebs looked uncomfortable and a little bit frightened by the uninvited, one-way PDA.
And while J.B. is happy to greet his legions of admirers (at arm's length), he recently told Ryan Seacrest on Rock Center that he doesn't "want to be another teen heartthrob…"