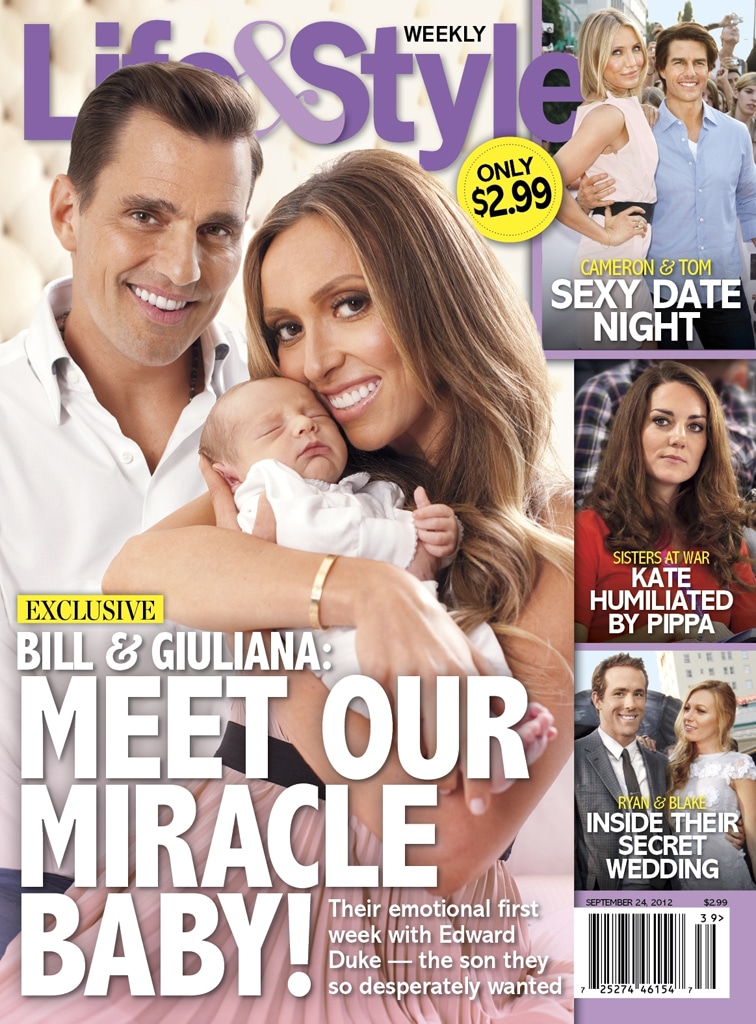 Life and Style
Giuliana and Bill Rancic are showing off their baby boy!
Two weeks after becoming a family of three, the proud parents are revealing the first photos of their new addition, son Edward Duke Rancic, in the latest issue of Life & Style.
The regally named baby boy was born via gestational carrier in Denver on Aug. 29, leaving Giuliana and Bill "blessed beyond words."
And, no surprise, it turns out Edward is pretty blessed in the adorable department.
"[He's] got Giuliana's dimples!" Bill tells Life & Style, marveling at how naturally his wife took to motherhood. "It's amazing how maternal instincts have taken over, and Giuliana's just supermom."
The happy mom, meanwhile, reveals what inspired their son's name.
"Edward is Bill's late dad's name and my dad's name," Giuliana explains. "It was a way to honor them. And Duke means leader."
And while Giuliana is taking some time off from Fashion Police and E! News to spend time with Edward, she will be on the air hosting our Live From the Red Carpet Emmys coverage Sept. 23.
"Coming back to E! for one night then back to changing diapers:)" she tweeted yesterday.
(Originally published on Sept. 12, 2012 at 4:30 a.m. PT)
Read more about Giuliana, Bill and baby in the latest issue of Life & Style Weekly, on newsstands now.