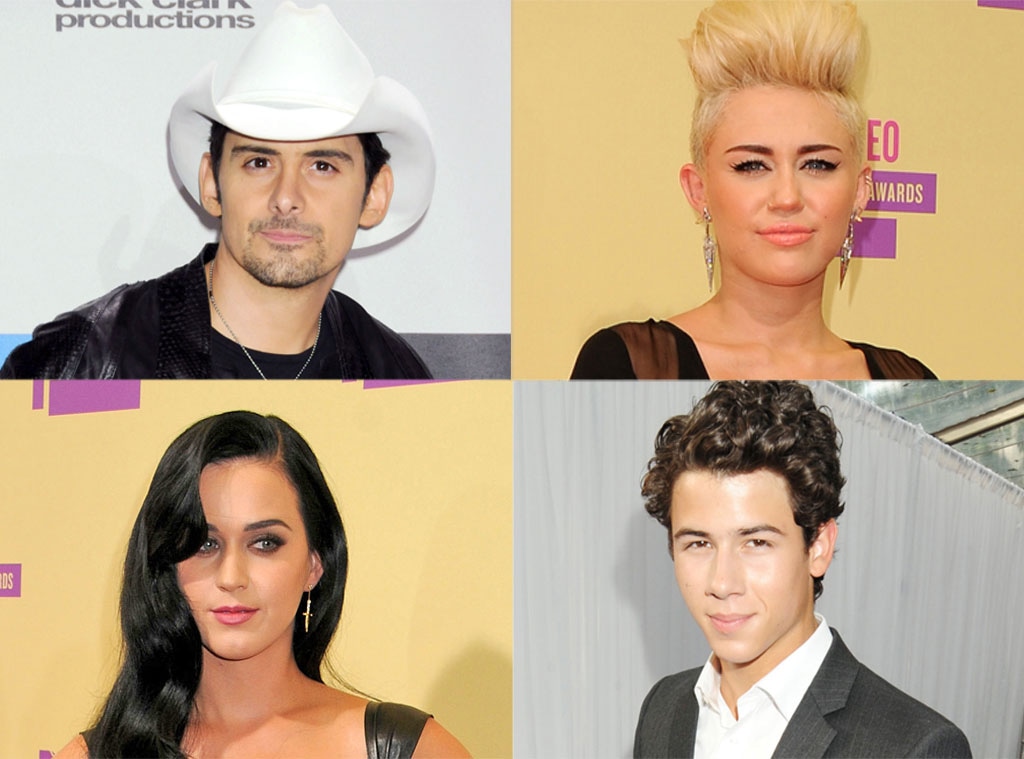 Gregg DeGuire/Picturegroup; Byron Purvis/SIPA USA; AP; Dave M. Benett/Getty Images
Ever since Jennifer Lopez and Steven Tyler exited American Idol, the rumor mill has been churning its little heart out, spitting gossip showers all over the place about which celebs will be joining the Idol judging table as replacements. After months and months of that, we are drenched in speculation and in desperate need of an umbrella.
So we thought it was high time to take a step back and look at all the names that have come (and gone) as possible Idol judges for the new season. From Katy Perry to Sean "Diddy" Combs, here is a complete update of where these rumors stand:
Miley Cyrus: She was approached earlier in the summer, but that fell through faster than you can say "I'm engaged to Gale Hawthorne." Sources told us that the talks were very preliminary and Miley never seriously considered it.
Katy Perry: Before Steven Tyler left and before even Jennifer Lopez confirmed her exit, sources revealed to us that the pop star was approached to be a judge. No official offer was made. 
Adam Lambert: One of the most famous alums of American Idol, Lambert was the frontrunner back in early July.  "He personifies the show, and will be a popular choice right from the start," a source told us. "He knows what it's like to be on the receiving end of the judges' comments, he has a human touch, and they know they can't go wrong if they bring him on. He would be able to bring a unique perspective to the show." Word is his name is still on the table, but Fox is now headed in a different direction. And speaking of...
Bret Michaels: The former reality star shot down this rumor real quick, even though by doing so, he started it. Seriously, we had no idea he was being considered until he made it up told us.
Brad Paisley: Considering Idol is always full of talent-with-twang, it should be a no brainer to have a country star on the judging panel. Brad Paisley, who always entertains while hosting the CMA's (five times in a row!) was a serious contender, but now it seems that Idol is leaning toward Keith Urban. We love them both, but honestly, we prefer Paisley. 
Diddy: In early August, we were told the superstar rapper was approached by Idol to gauge his interest, but was considered a "long shot." His name hasn't been brought up since, so we would label this one a "no shot."
Nick Jonas: No questionable sources here, Nick Jonas himself confirmed the rumor by tweeting: "The rumors are true...I am being considered to be a judge on American Idol, and it would be a dream come true if it happens." It's probably not anymore. Sorry, Nick.  
Nicki Minaj: Insiders were whispering that the "Starships" singer was "definitely" joining the show, and based on recent rumors, it seems she's more of a lock than any other celeb on this list. However, when we asked her about Idol, she would only say this: "I don't know yet. I really don't know. I have no comment on it. Everything in my life, every answer in my life, every opportunity is always my decision."
Randy Jackson: The original dawg was reportedly offered a spot to return to Idol, but no word yet on if he's taking it. Plus. Simon Cowell tweeted that Randy was the "right decision," so it must be the way to go, yes? 
Enrique Iglesias: The 37-year-old singer-songwriter was reportedly offered $4 million per year to become one of four judges on the panel, but Fox refused to make any comment on the negotiation.   
All caught up on Idol Judges 101? Good. We'll see you in the comments to place bets on which stars will actually get the gig.