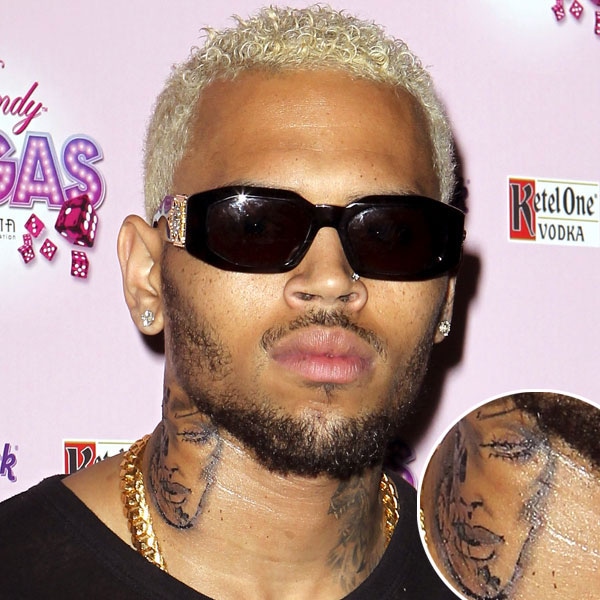 Jeff R. Bottari/Getty Images
Is Chris Brown putting his love for Rihanna in permanent ink?
The Graffiti singer is raising eyebrows after being snapped recently sporting a tattoo on his neck of what some say looks like the battered and bruised face of his ex-girlfriend. The image has sparked speculation Brown got it as a sort of weird reminder of his Feb. 8, 2009 assault of Rihanna, a crime for which he pleaded guilty to felony assault and received five years' probation.
While the design seems to closely resemble the notorious photo that was leaked of the R&B songstress post-attack, E! News did some digging and it turns out the rumor is...
So false!
Brown's publicist, Jeff Raymond, tells us the tattoo is not Rihanna.
"His tattoo is a sugar skull (associated with the Mexican celebration of the Day of the Dead) and a MAC cosmetics design he saw.  It is not Rihanna or an abused woman as erroneously reported. It is peeling right now," the rep said.
Added tattoo artist Peter Koskela: "It's a sugar skull based on the MAC design that Chris brought me."
Following the infamous incident, Brown was instructed as part of his probation to keep away from Rihanna until a judge relaxed the restraining order in February 2011. The former flames have since reconnected and rebuilt their friendship, but as the Barbadian beauty told Oprah Winfrey, while she still loves him, the two are not seeing each other.
Like Chris, Rihanna is no stranger to body art.  She took to Twitter on Sunday to show off her latest tattoo, a picture of the Egyptian goddess Isis under her breasts which she dedicated to her late grandmother.
—Reporting by Sharareh Drury