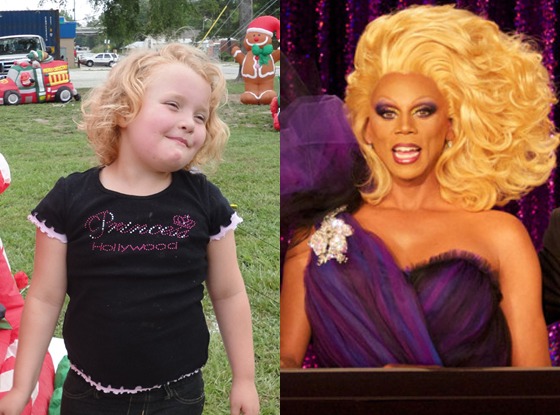 Chris Fraticelli/AMC; LOGO
It looks like we're not the only fans of Here Comes Honey Boo Boo.
Drag superstar RuPaul loves little Alana Thompson and her family so much, he wants a singing gig with the former Toddlers & Tiaras pageant queen.
"I'm doing a duet record and I'm here to ask Honey Boo Boo Child to be my duet partner!" RuPaul told us at last week's MTV VMAs in L.A.
The RuPaul's Drag Race star gushed, "She is real. She is lovely. She's funny. She doesn't take herself seriously. The whole family doesn't take themselves seriously. It's really just good fun. I love anybody who dances to the beat of a different drummer."
While we'll have to wait and see if RuPaul and Honey Boo Boo get to record any music, he says one thing's for sure—we won't be seeing Alana and her family get drag makeovers on RuPaul's Drag Race!
"They don't need one," he smiled. "Honey Boo Boo is there. She is the queen. She understands what drag is. That's what pageants are. That's why pageants are so lovely."
So who would win in a drag fashion show walk-off?
"Oh please, there's no contest," RuPaul laughed. "Honey Boo Boo child would win."