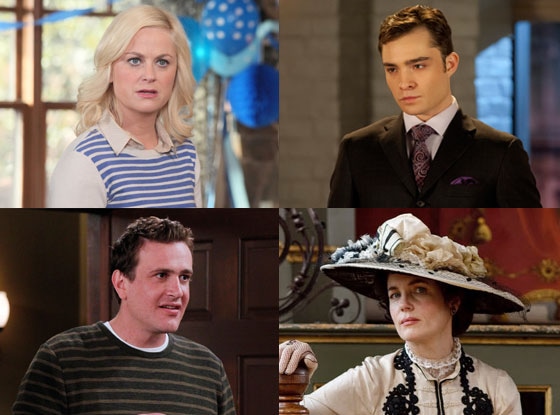 PBS, NBC, CBS, CW
OMGGG!
Yes, that stands for Oh My Gosh, Gossip Girl and it is all we have to say about what we're hearing about a certain fan favorite couple's scenes together in the final season's premiere episode. Yeah, the scenes are that steamy.
Aside from some romance scoop on Gossip Girl, we've also got intel on Scandal's will-they-or-won't they couple, season three Downton Abbey goodies, and some spoilers on Parks and Recreation, How I Met Your Mother and more in today's Spoiler Chat...
Cosmic_Love: Can we expect an explosive Chuck and Blair reunion in the premiere after spending their summers apart? #GG  
In a word: HELL YES. Sorry, was that two? I can tell you that the premiere will pick up with Chuck and Blair in a Monte Carlo Hotel Room. It will definitely be explosive and lots will be revealed. Just making sure you all caught that: Hotel. Room. Chuck. And. Blair. Does this make you tingle in all the right places, Chair fans?
puking_unicorn: Any scoop on the father-son relationship between Bart and Chuck Bass on Gossip Girl? Is Bart still the cold hearted monster?
Chuck will most definitely be at war with his father in the final season, and it will start to affect the women he loves the most: Lily and (sorry to be the bearer of less-than-stellar news, Chair fans) Blair.
Lizzy: I know Smash doesn't come back for awhile, but I need scoop now!
If you had issues with Smash's first season, than boy, does Debra Messing have good news for you! She just told us this to describe season two of Smash: "Lots of changes. Lots of new, unexpected things in the storytelling. I think fans we'll be excited." How can we not be excited when the season finale left us hanging?!
Kasey: I am literally counting down the minutes until the season two premiere of Scandal! Give me some good news about my favorite couple Fitz and Olivia?!
Listen, he is the leader of the free world and has no time for love! OK, just kidding. The fact that his wife is expecting obviously complicates his relationship with Olivia as well, and in the season two premiere, we learn the two haven't spoken in quite some time. Le sigh. However, they do share a moment that left us breathless...and they aren't even face-to-face. Yeah, their chemistry is that good.
Christina: Downton Abbey spoilers if you got them!
And we do! Elizabeth McGovern says the world of Downton Abbey will be dealing with "massive change" in the new season. "There is starting to be a lot more movement between classes and that is funny, heartbreaking, disturbing, and wonderful. You find out a lot more about the characters because you see how they react to a changing world," she tells us. "The kids who are growing up of course in the '20s, [when] everything started to be much more liberated. There were a lot more possibilities for those girls than had been at the start of the series. They're now looking to maybe have careers. So, that is the sort of dramatic thrust of a lot of the stories in Season three." We're seriously considering moving to the U.K. just because the new season premiers earlier there. Too much?
Adam in San Jose, Calif.: All caught up on Parks and Recreation and now I need scoop. Help!
First of all, you shouldn't be behind on Parks and Rec, so how dare you? Kidding! This season, Parks and Recreation will be partaking in the grandest of TV traditions: a Halloween episode! In the episode, titled "Halloween Surprise," we'll go somewhere we haven't gone yet on PRex: Florida. Because nothing says Halloween like sunny skies and yachts. Did we mention there is a yacht involved? There is.
Beverly: I'm going to be greedy and ask for even more Glee scoop!
Lucky for you we just chatted with Chord Overstreet, who told us that the Fox hit is bringing the sexy in season four. "I would say sexy is the perfect way to describe it," he says of Kate Hudson and Lea Michele's much-discussed scenes in the Britney Spears tribute episode. While Hudson's character is pretty harsh on Rachel, Chord says, "I think it's for Rachel's best." 
Tessa in Atlanta: I have a How I Met Your Mother question not related to Barney and Robin. I want to know how Lily and Marshall are handling the new baby!        
Fair enough, we do talk a lot about how perfect Barney and Robin are together and how they should get married and have babies and never be apart and...oh, sorry. We're doing it again. Ahem. When were on set for the season premiere, we got the scoop about Lily and Marshall's life post-baby from Cobie Smulders. "I think it shifts the couples' priorities," she tells us. "Just their ability to stay awake, which is sort of what happens in the first episode. When you have another creature in your life, things change. I think that this group that we have here is tight enough that everyone is going to come together as opposed to kind of fall apart and kind drop off and go on to do their own thing." Good to know that selfish babies won't get in the way of drinking at MacLaren's.