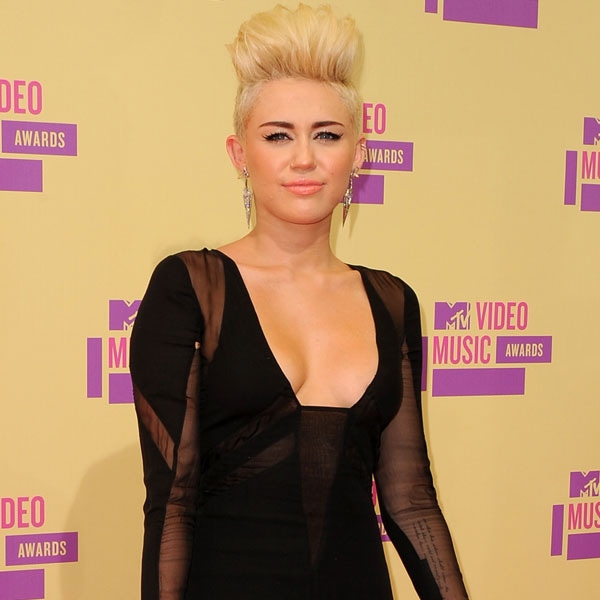 Kirkland/PictureGroup) via AP IMAGES
Let's get one thing straight post-VMAs: It is not a big deal that Miley Cyrus and Pink rocked nearly identical bleached-blond 'dos.
According to whom, you might ask? Miley herself, natch.
The sexy starlet took to Twitter after the MTV Video Music Awards to sound off on people noting that Miley and Pink had almost the exact same spiky blond hair:
"Woahh 2 girls have blonde short hair! The whole world should go in to panic mode. Redickkkk," Miley posted on her Twitter shortly after the show.  
OK, so it's safe to say Miley may not be, er, thrilled by the perceived similarities between hers and Pink's short looks, but we still think both gals looked fab and fierce.
Miley's not the only celeb sounding off, a whole slew of stars took to Twitter post-show to thank their fans and comment on the spectacular scene at the 2012 VMAs:
Pink: "Had so much fun 2night Thanks MTV and VMA's- thanks to all the lovely gorgeous fans/friends. And I'm out. Hello Europe! Here we come. XXX"
Rihanna: #RihannaNavy we won Video of the Year!!! Thank you for voting! My night was major! Jah bless"
Niall Horan: "Love you all soooo much! Guys what the hell! You are incredible, 3 vmas! We love u all soo much! All 3 of them are for u! Thank you!"
Calvin Harris: "I won 2 moonmen! Great night! Away for my dinner :D #VMA. Thanks for all the congrats on the VMAs...had a great time + elated to leave with 2 little moonmen. Heading to Miami now, LIV tonight!!"
Katy Perry: "Best art direction moon man is so hipster cool! YAY! #everyoneinsilverlakewildnout #peopleinsilverlakewouldntsaywildnout
Demi Lovato: "Leaving VMAs...what an amazing night!!"
Harry Styles: "We owe you everything. Thank you so much for this. Three VMAs!! YEAH .xx"
Louis Tomlinson: "Wow can't believe we won three awards ! I said it on stage but i'll say it again! The awards are because of you guys , thank you everyone!"
Lil Wayne: "Had a blast on stage! I thank all of my wonderful fans for the support!!!!! We ain't s--t without ya!"
Wiz Khalifa: "That Was Fun. Thnx For Da Love"
Amber Rose: "Thx 4 all the Love my Rosebuds & Rosestuds I love u guys so much we're about to have a lil #WizBud join our Rosebud fam Yay!! :-) I've never been so happy."
Taylor Swift: "VMA dressing room report: exceptional snack selection. SCORE."
Nicki Minaj: "OHHHHHhhH MYYYYYY F--KINGGGGG GAHHHHHHHHH!!!!!!!!!!!!!!!!!!!!!! Barbz!!!!!!!!!!!!!!!!!!!!!!!!!!"
Alicia Keys: "So thrilled I was finally able 2 share that w/ u @ the #vma! This is just the beginning! #girlonfire"
Gabby Douglas: "Had so much fun tonight at the VMA's with my girls it couldn't have been better!!!"
McKayla Maroney: "Had the most amazing time at the VMAs.. That was one of those unforgettable kinda nights."
Deena Cortese: "#drinks #VMAs #amazing #justsayin"