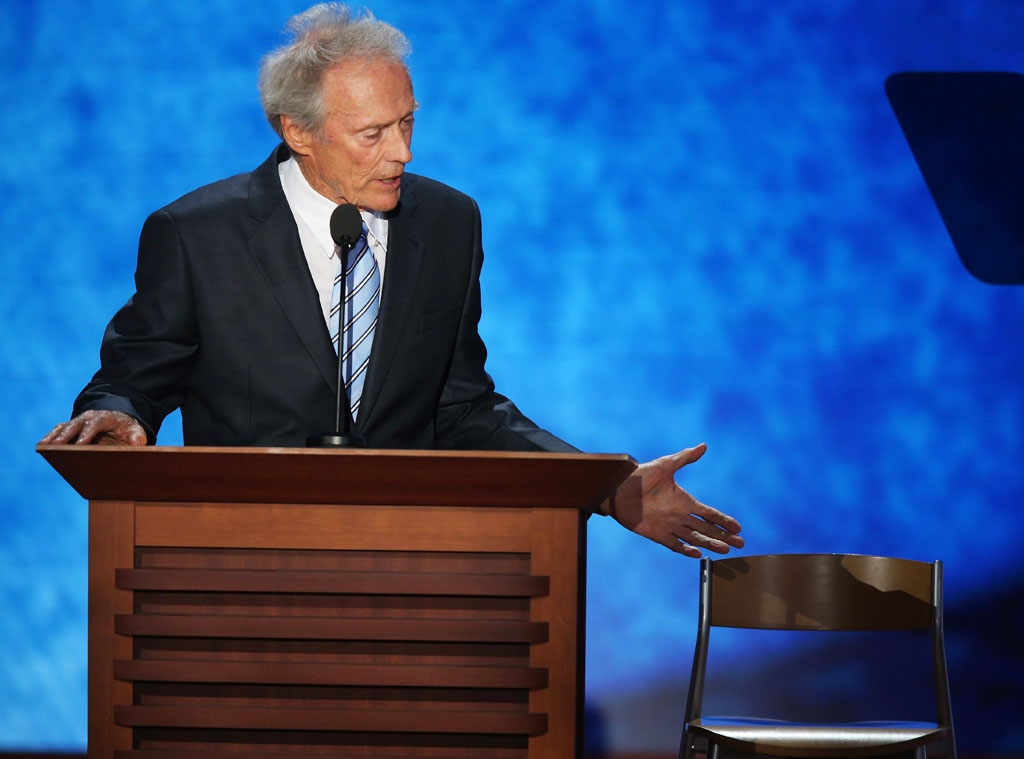 Mark Wilson/Getty Images
Forget Unforgiven. Clint Eastwood is unrepentant.
The screen legend is finally talking about that infamous empty-chair routine during his rambling speech at last week's Republican National Convention—a controversial stunt that landed him in the line of fire of media pundits, especially liberal critics.
In an interview with the Carmel Pine Cone newspaper, the 82-year-old Eastwood said he came up with the mother of all memes after meeting Timothy Dolan, the Archbishop of New York, in the Green Room backstage shortly after arriving in Tampa.
"There was a stool there, and some fella kept asking me if I wanted to sit down," said the actor-director. "When I saw the stool sitting there, it gave me the idea. I'll just put the stool out there and I'll talk to Mr. Obama and ask him why he didn't keep all of the promises he made to everybody."
Thus after asking a stagehand to place it next to the podium, the Man With No Name ended up initiating one of the most bizarre moments in convention history by having a mocking, incoherent, and improvised conversation with an empty chair in which, he explained to delegates, sat an invisible Barack Obama.
And despite the fistful of criticism from Democrats and even a few Republicans for what some suggested was a disrespectful tone he took towards the nation's first African-American president (and an invisible one at that!), like when he pretended Obama told Mitt Romney to do something "physically impossible" to himself and said it's time to elect a "stellar businessman" as president instead of a lawyer, Eastwood says he has no regrets.
"[The crowd] really seemed to be enjoying themselves," he said, adding that most of those who were shocked by him lecturing an empty chair "are obviously on the left."
While he acknowledged his extemporaneous endorsement of the Republican nominee was "very unorthodox," the Oscar winner noted that even when he was mayor of his California hometown of Carmel-by-the-Sea back in the '80s, he never acted like a professional pol.
"They've got this crazy actor who's 82-years-old up there in a suit," added Eastwood. "I was a mayor, and they're probably thinking I know how to give a speech, but even when I was mayor I never gave speeches. I gave talks."
Eastwood recalled that Romney campaign aides did press to vet his speech, but that he refused because he didn't know until just a few hours before what he was going to say. Though he did assure them it would be a glowing endorsement of their candidate.
"I had three points I wanted to make," he said. "That not everybody in Hollywood is on the left, that Obama has broken a lot of the promises he made when he took office, and that the people should feel free to get rid of any politician who's not doing a good job. But I didn't make up my mind exactly what I was going to say until I said it."
On the whole, however unconventional the empty chair was, the former Dirty Harry says he's satisfied he got his message across, especially to undecided voters.
"It was supposed to be a contrast with all the scripted speeches, because I'm Joe Citizen," said Eastwood. "I'm a movie maker, but I have the same feelings as the average guy out there."
And he's expressing them any which he can apparently.
When he's not mining Internet gold, Eastwood meanwhile is returning the big screen for his first starring role since 2008's Gran Torino as the lead in the upcoming sports drama Trouble with the Curve, hitting theaters Sept. 21.