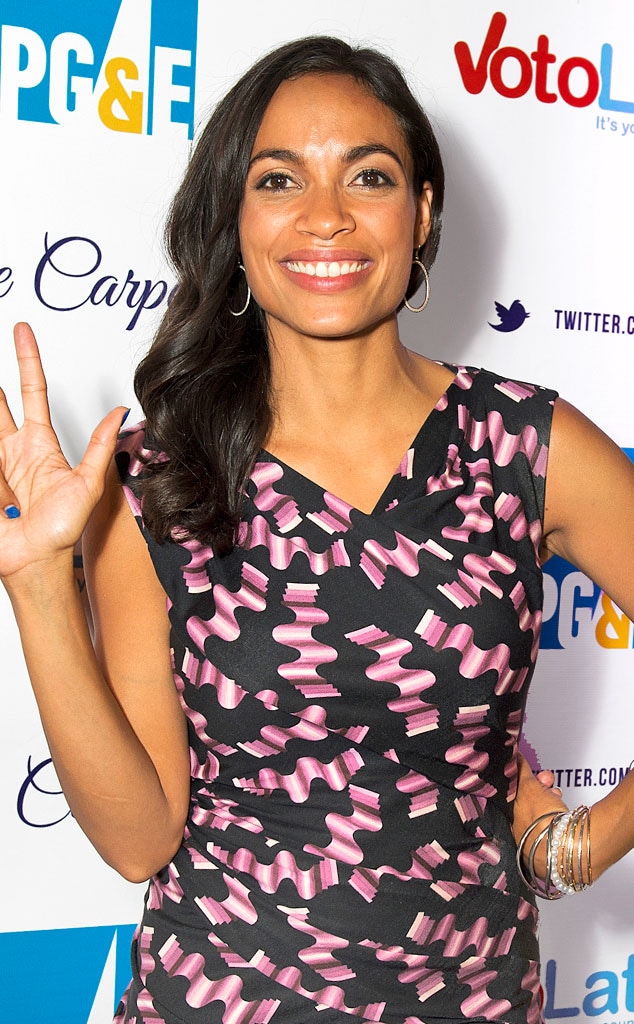 Ken Charnock/Getty Images
Rosario Dawson has a lot to say...just not about Sin City 2. "It's in! It's happening!" she excitedly confirmed for us at last night's Voto Latino purple carpet bash, before quickly adding: "Can't tell you nothing."
But while Rosario stays tight lipped on the highly anticipated sequel to the 2005 comic book flick, the co-founder of Voto Latino, which focuses on registering and engaging young Latino voters, was thrilled to talk about all things political.
"I'm really hoping and doing as much as possible to make sure that people who want to share their voice, can," she explained to us about her activism beyond the DNC. "That's what I really hope: People show up, across the board. Youth, Latinos, women, elderly. Everyone shows up in spades to let everyone else know that they're paying attention and you can't just buy an election."
And while she's here in Charlotte, N.C., where she said she was lucky enough to listen to the likes of Michelle Obama and mayor Julian Casto deliver speeches, she's soaking it all in.
"So often when you're just looking at the commercials and the hate smear campaigns, it seems so childish," Rosario revealed. "So to be here and hear actual intelligent discourse is remarkable...I hope that the RNC and the DNC is inspiring people to go, 'Let's pay attention!' We need people to be paying attention and engaged."
Rosario continued, "You know, you have, like, through the roof voting for American Idol and all these other things and that's fun and it's awesome, but this is the stuff that's really vitally important."
Speaking of the Republican National Convention, Rosario—who attended the RNC in 2008 but wasn't able to make it this year—is quick to compliment Clint Eastwood's controversial, meme-spawning appearance.
"That was pretty trippy, actually. I didn't think that it was so off, like I actually thought it was really good improv," Rosario told us. "As an actor, I was like, 'That was well done!' I can see for other people that being kind of strange doing the question and answer kind of stuff and I was surprised a bit by his position on some of the stuff, but I thought it was really great and really brave for someone to stand up and say this is my position on something, take it or leave it."
"I appreciated a lot of his positions, I think he was very respectful in a lot of ways and I wish that that was more the case when people are talking about someone they want to vote for and someone they don't," she continued. "I'm not always going to agree with the things that he's saying, but I like the fact that he's out there and making himself vulnerable to whatever it is because he cares."