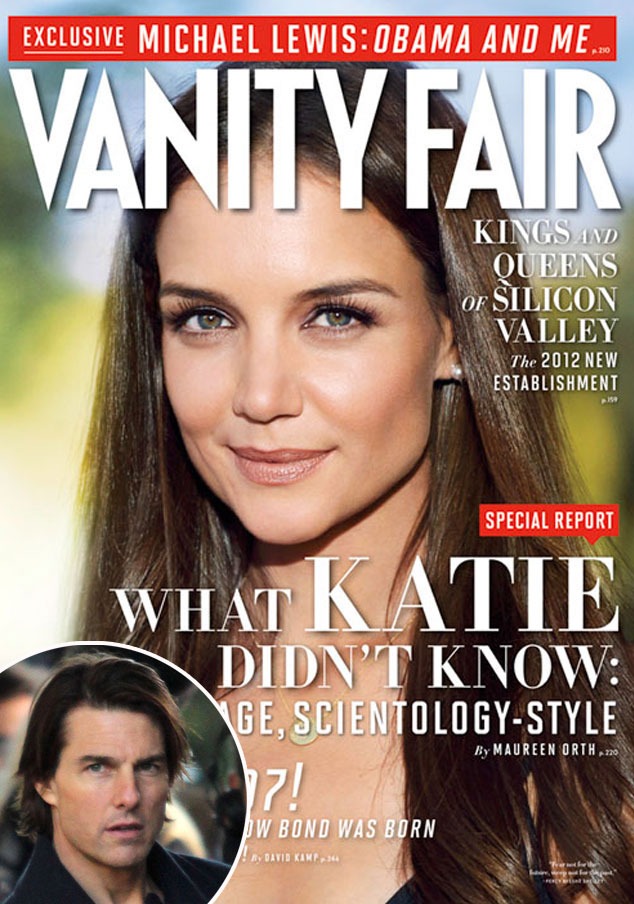 VANITY FAIR, Flynet Pictures
Vanity Fair sure didn't play favorites with its October 2006 cover boy.
Six years after Tom Cruise and Katie Holmes introduced daughter Suri to the world on the cover of the society-probing magazine, Vanity Fair's latest issue features an exposé on the most controversial relationship in Cruise's life—the one he has with Scientology.
The mag had already let slip a huge shocker from Maureen Orth's story—that General Hospital and How I Met Your Mother beauty Nazanin Boniadi was being groomed to be Cruise's third wife before it obviously didn't work out. (For the record, the church denied the "preposterous allegations" in Orth's story and Cruise attorney Bert Fields called the article a "rehash of tired old lies.")
But, no shocker here, the oozing-with-detail article had plenty more to reveal. Here are five more jaw-droppers from the cover story:
1. Nicole Kidman Was a Real Downer: Scientology considered Cruise's Catholic second wife a "Suppressive Person," one who could interfere with his spiritual well-being, and the same went for her psychologist father. Per the article, a church member who was monitoring Kidman's progress was made to sleep on the floor and perform manual labor as punishment for losing her grip on the actress. Their adopted kids, Connor and Bella, took a course on "S.P.'s" and rejected Kidman—and her movies!—after their parents divorced, according to an ex-member. (Cruise's first wife, Mimi Rogers, was a Scientologist, but an ex-member says that church chief David Miscavige played a role in the breakup of both marriages. Miscavige then served as Cruise's best man when he married Holmes.)
2. Penélope Cruz Stuck to Her Guns: The church dismissed Cruise's girlfriend (remember Cruise & Cruz?) as a "dilettante"—you know, an admirer of the arts, unlike Cruise...?—after the practicing Buddhist refused to get involved with Scientology.
3. Scientology Frowns on Threesomes: The gals who were up for the role of Mrs. Tom Cruise, including Boniadi, went through an extensive auditing process and were entreated to divulge the most intimate details of their sex lives. Apparently, no one who had ever engaged in a ménage à trois was welcome—and that left one lady out of the running! We can only wonder, however, if the adventurous soul happened to be Sofia Vergara or Scarlett Johansson, both namechecked as two early-stage candidates.
4. The Guy Behind Tom's Toys: John Brousseau, a former Scientologist internal security officer and Miscavige's ex-brother-in-law, said he was tasked with imposing cleanliness and order on Cruise's Beverly Hills estate after Cruz had moved out but some of her things were still there. Brousseau also says that he oversaw the maintenance of Cruise's homes in L.A. and Telluride, Colo., his $1 million trailer, a tricked-out limo, his 40-foot Blue Bird motor home with the "most kickass TV-and-stereo system in the world," a fleet of motorcycles, a Ford Excursion with a custom wood interior and a private airplane hangar. The former staffer also offered that Cruise and Holmes looked early on like "a picture-perfect couple who seemed genuinely happy."
5. Tom Never Broke Up With Nazanin: Before it all went south, Cruise researched his potential bride's ideal date and, after taking her on a presumably private tour of the Empire State Building, treated her to sushi at Nobu and ice-skating at Rockefeller Center (which was closed down for the occasion, natch). They didn't spend the night together after their first date, but Cruise reportedly told her, "I've never felt this way before." That was October, though. By November 2004, Cruise wanted her to have a tooth filed down and her mother was being shut out of her life. The couple went to Telluride for New Year's, where Boniadi reportedly fell off a snow mobile and was denied pain medication. The following day, after insulting Miscavige in Cruise's eyes, she was flown back to L.A. with members of Cruise's staff and it was further downhill from there. She was eventually asked to leave the actor's home and was never broken up with by the man himself.
(Originally published Sept. 5, 2012, at 7:08 p.m. PT)