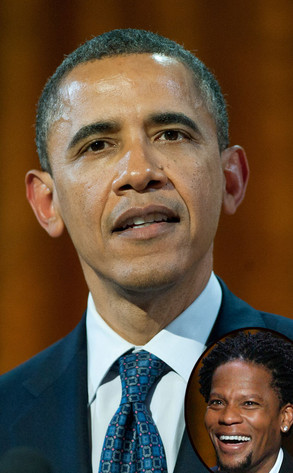 Kevin Dietsch-Pool/Getty Images, Jesse Grant/Getty Images
While Michelle Obama was earning high praise for her keynote speech (and looking the picture of the perfect FLOTUS the entire time), across town there was a different kind of Barack Obama appreciation going on: one that involved a lot of F-bombs!
Comedians D.L. Hughley and Aries Spears teamed up for the One World Comedy Jam held at Charlotte, N.C.'s Blumenthal Performing Arts Belk Theater. Among other NSFW (though often hilarious) topics of conversation, the trio dove right into politics. And they didn't mince words…about anything.
"Rush Limbaugh, he said Barack Obama caused a tornado. And then Paul Ryan said Barack Obama was responsible for closing the plant that closed down before he got into office," D.L. explained. "They think this motherf--ker can go back in time! Let me tell you something, if you can go back in time and control the weather, that's a motherf--ker you don't f--k with!"