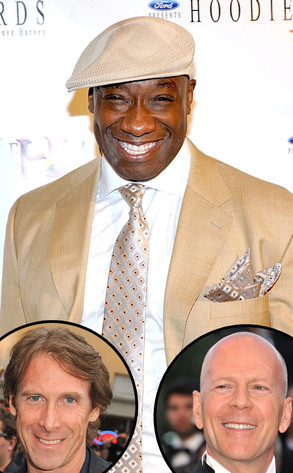 Ethan Miller/WireImage; Kevin Winter, Pascal Le Segretain/Getty Images
Since the news of Michael Clarke Duncan's death, Hollywood has been mourning the loss of an Oscar-nominated star, but actor Bruce Willis and director Michael Bay—who both worked with Duncan in Armageddon—are devastated over the loss of a wonderful friend.
"Michael Duncan was a great actor, a great human being, and he was my very dear friend. I will miss Big Mike in a Big Way," Willis tells E! News.
Willis and Duncan first acted together in Armageddon back in 1998. Michael credited the A-lister for recommending him to Green Mile director Frank Darabont. He was later nominated for an Academy Award for his heartfelt and groundbreaking performance.