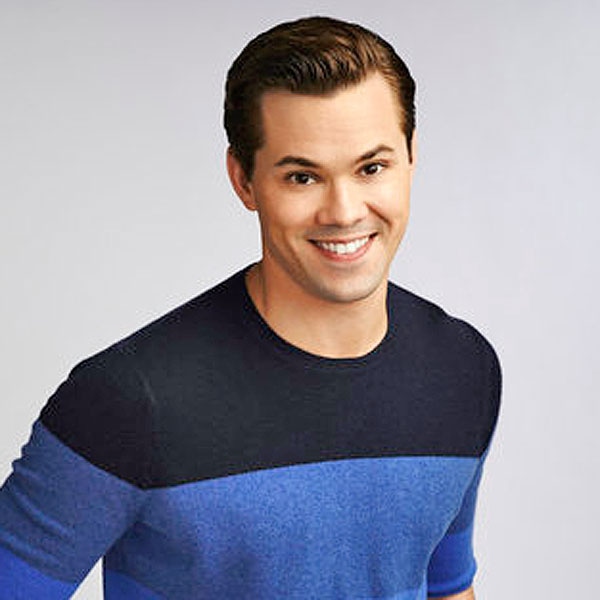 NBC
The pumpkin spice latte is back at Starbucks today, so you know what that means: It's officially fall!
To celebrate the beginning of the 2012 fall TV season, we decided to reveal to you, our very special readers, the stars hitting the small screen in new shows that we are harboring some major elementary school-level crushes on. And chances are, you will, too. Our inaugural crush is (drumroll, please!)...The New Normal's Andrew Rannells! So why are we crushing on Andrew so hard? Let us count the many (OK, five!) reasons why:
1. That Sense of Humor: Like any good crush-ship (crush + relationship), we can pinpoint the exact moment we fell in lurve with Andrew: at the Television Critics Association's press tour this summer, a reporter suggested that The New Normal's main couple (Andrew and costar Justin Bartha) were TV's first conventionally attractive gay couple. His response? "Ouch. And thank you."
Watch:
"The New Normal" Stars on Show Controversy
2. That Time We Interviewed Him: Yes, we got this close to Andrew. Be jealous. Watch our chat with Andrew and his costars Justin and Georga King and laugh along with us when they misconstrue the whole "Are you doing more Girls?" question. It's hilarious, and yes, Andrew will be back for season two of Lena Dunham's HBO hit as scene stealer Elijah. (We. Can't Wait.)
3. That Voice: Andrew's breakout role came courtesy of the smash Broadway musical The Book Of Mormon, which landed him a Tony nom and a Grammy Award (Best Musical Theater Album, yo!). Check out Andrew's performance of "I Believe" at the 2011 Tony Awards and swoon with us, won't you?
4. That Twitter Account: As if bringing the funny on screen weren't enough, Andrew is also making us giggle on a daily basis, thanks to his Twitter. Some of our favorite posts include, "I wish I was the lead girl from Teen Witch today. Specifically in the 'Most Popular Girl' number. I need a makeover montage and some dancers." And, "So, I am watching Lifetime and I am accosted by Lindsay Lohan as Elizabeth Taylor. No. Not a thing, Lifetime. Not. A. Thing."
Follow him at @andrewrannells and thank us in the morning.
5. That Show: You know what would suck? If we fell this deeply in crush-love with Andrew, only to check out his new show and not really like it. Fortunately, we are loving The New Normal, created by Glee and American Horror Story mastermind Ryan Murphy, just as much as we love Andrew. Check out our review of the show to find out why.
(E! and NBC are both part of the NBCUniversal family.)